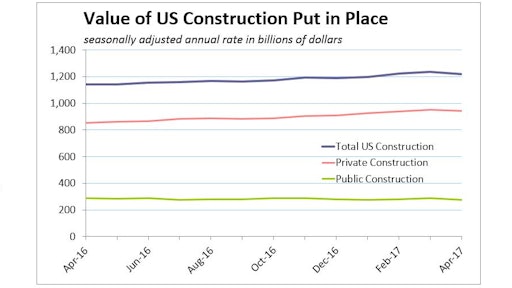 Outlays for public and private construction projects slipped 1.4% in April to a $1,218.5-billion annual rate. The dip's sting was tempered by upward revision carrying outlays to a record high in March. Mild winter weather made for a busy spring construction season, lifting spending in the first four months of the year 5.8% above the same period in 2016.
Private spending on residential projects slowed in April, down 0.7% for the month on sinking multifamily outlays, even though spending on single-family construction grew 0.8%. Private residential construction spending in April was 16% greater than April 2016.
Housing starts data were similar for April, with multifamily starts down on the month. Multifamily permits were better, however, which bodes well for this category in coming months.
Private nonresidential construction spending was down 0.6% for the month, but still pacing 4.3% ahead of April 2016. The largest nonresidential construction sectors were mixed, with Power down 1.4%, Commercial essentially static at 0.3%, Manufacturing down 1.9% and Office construction up 1.7%.
Public construction spending continues to disappoint. Outlays through April were down 5.2% on a year-to-date basis. All of the largest sectors drooped: Highway & Street (-3.7%), Educational (-2.0%) and Transportation (-2.0%).