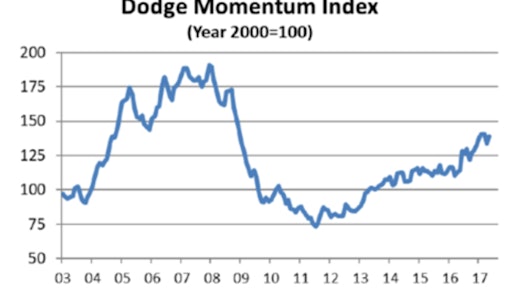 After April's retreat of 5.1% to 133.7, May's Dodge Momentum Index (DMI) bounced back a solid 4% to 139.1. On a year-over-year basis, the index is up 20.8%. The prior month's decline caused some concern, but the rebound in May eases worries and is consistent with moderate construction growth ahead, according to Wells Fargo Securities.
In May, six projects entered planning each with a value of $100 million or more. For the commercial building sector, the leading projects were the $245 million Camden Partners office tower in Camden, NJ, and the $140 million first phase of the Gateway of the Pacific office complex in San Francisco. The leading institutional building project was a $100 million detention center in Conroe, TX.
In May, the commercial component of the Momentum Index increased 4.8% to an eight-and-a-half year high, which suggests that construction activity for commercial buildings will continue to rise over the next year, even with signs of decelerating improvement in market fundamentals (occupancies and rents), according to Dodge Data & Analytics.
The institutional component of the Momentum Index rose 2.9% in May, making a partial rebound after pulling back 12.0% in April, according to Dodge Data. During this year's first quarter, the institutional component had re-established its often hesitant upward trend, with March up 21% compared to the end of 2016. May's moderate gain, following the April retreat, provides evidence that the upward trend for the institutional sector remains underway.
That said, the run of double-digit yearly gains may be coming to an end, as planning activity jumped beginning in June 2016 and has remained elevated, according to Wells Fargo Securities.