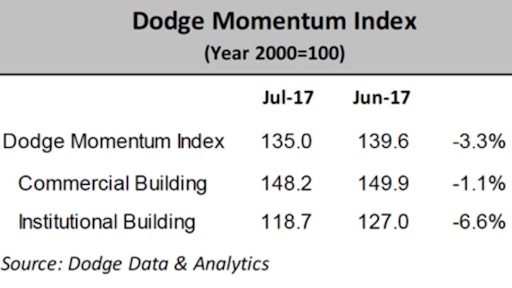 Dodge Data & Analytics
The Dodge Momentum Index fell in July, dropping 3.3% to 135.0(2000=100) from its revised June reading of 139.6, according to Dodge Data & Analytics. The Momentum Index is a monthly measure of the first (or initial) report for nonresidential building projects in planning, which have been shown to lead construction spending for nonresidential buildings by a full year. The move lower in July was due to a 6.6% decline in the institutional component of the Momentum Index, while the commercial component fell 1.1%.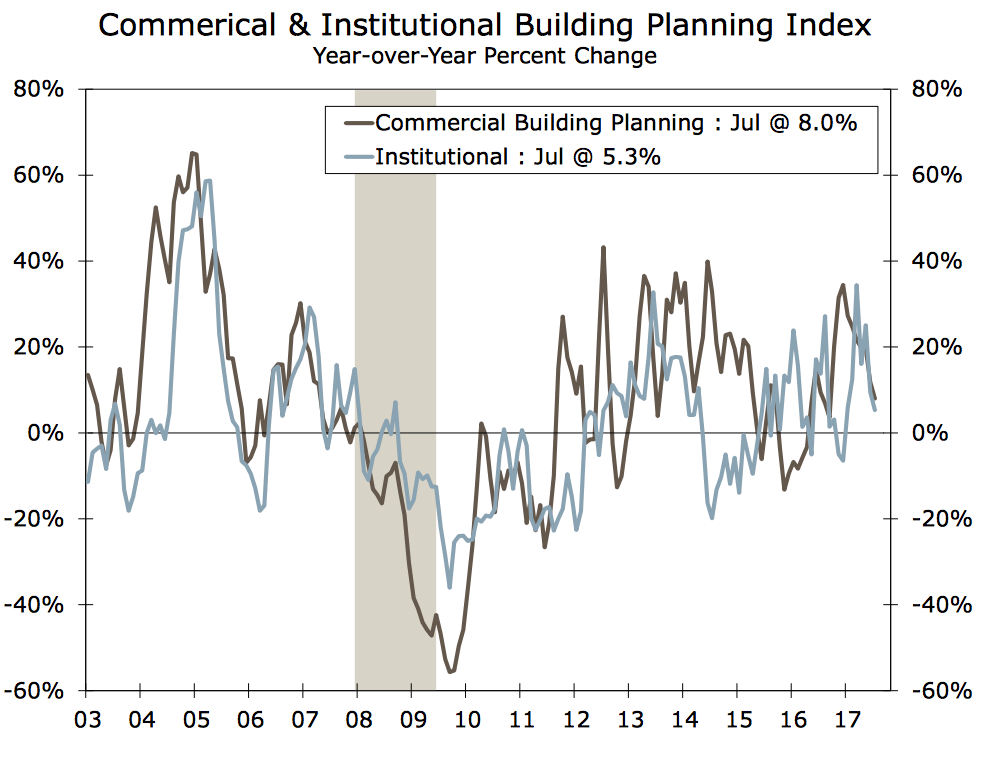 While projects in the planning phase in the commercial and institutional sectors for the year, July's yearly gains are well off the double-digit pace registered since mid-2016.Wells Fargo SecuritiesThis month continues a recent trend of volatility in the Momentum Index where a string of gains is interrupted by a step backwards in planning intentions. Despite the decline from June to July, the Momentum Index is 6.9% higher than one year ago, which suggests further moderate gains in construction activity throughout the year. The commercial component of the Momentum Index is 8% higher than last year, while the Institutional component is 5.3% higher.
In July, nine projects entered planning each with a value of $100 million or more. For the institutional building sector, the leading projects were the $200 million Kaiser Permanente Medical Center in Woodbridge, VA, and the $200 million phase 2B of the Thompson Education Center in Rocky Hill, NY.
The leading commercial building projects were a $177 million Amazon fulfillment center in North Randall, Ohio, and the $170 million Pala Casino and Resort in Pala, CA.
According to Wells Fargo Securities, private commercial construction spending rose 14.6% in the first half of the year relative to a year earlier, which is roughly in line with the pace registered in 2016. Much of the growth in the commercial sector is due to strength in office, retail, and warehouse. Although still positive, the pace of private lodging construction spending has downshifted significantly, which is consistent with operating fundamentals. Softer dollar performance and an uptick in corporate profits offer hope for better lodging results in the coming quarters.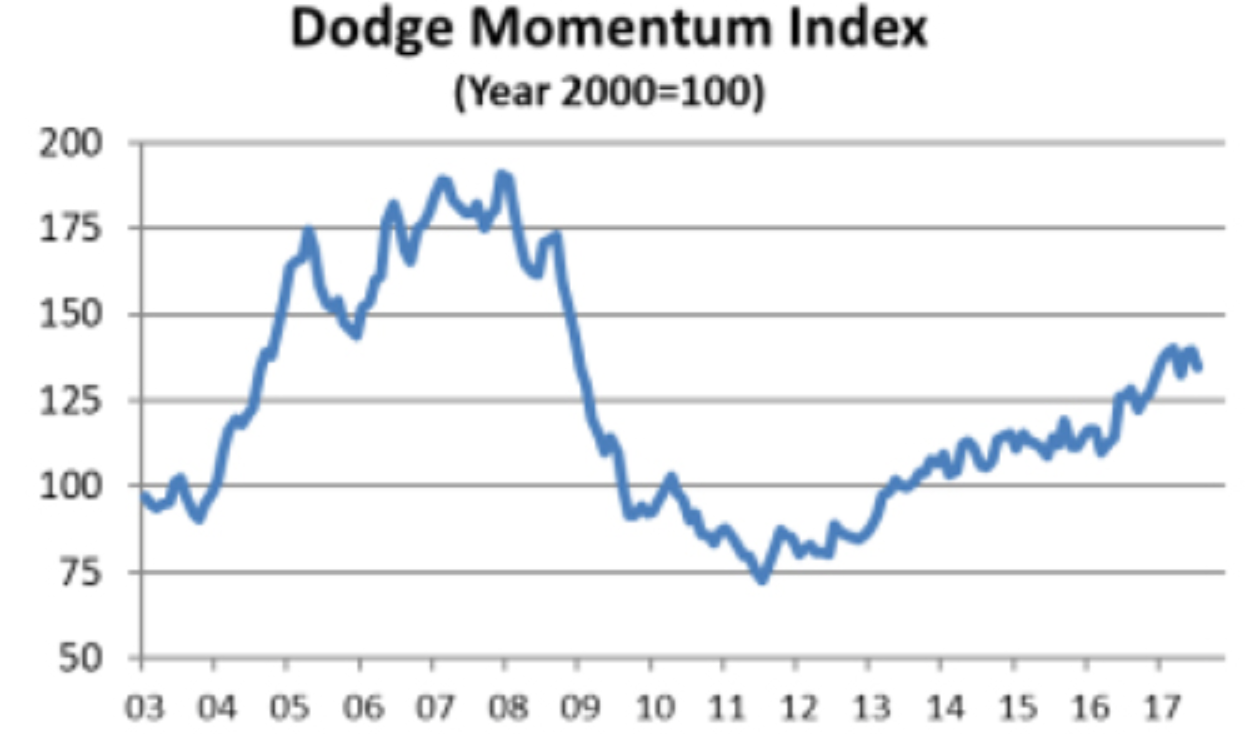 The pace of nonresidential construction projects entering the planning phase slipped in July; however, activity on a year-ago basis still points to moderate gains in private nonresidential construction spending.Dodge Data & AnalyticsOn the other hand, the institutional component rose in the single-digits on a year-ago basis during the first half of the year, according to Wells Fargo Securities. Although education and theme-park construction outlays continue to advance, health care, the largest institutional component, is expected to cool further in 2018. Structure investment, which feeds into real GDP, should grow more than 6% this year but fall in 2018.