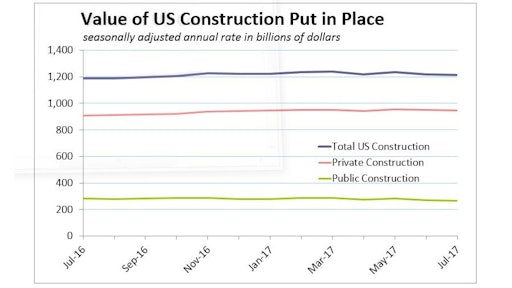 Data: US Department of Commerce
U.S. construction spending unexpectedly fell in July, hitting a nine-month low brought about in part by a steep decline in investment in private structures. Investment on public sector projects also fell.
The Commerce Department said on Friday that construction spending decreased 0.6% to $1.21 trillion. It was the lowest level since October 2016 and followed a downwardly revised 1.4% tumble in June.
Economists polled by Reuters had forecast construction spending increasing 0.5% in July.
Total U.S. construction spending was, nevertheless, 1.8% greater than in July 2016.
The Wells Fargo Economics Group's analysis of the data warns, "while these data are volatile and subject to revision, it is notable that nearly every non-residential category declined in both months."
Public and private spending both declined in July. It's the second drop for private construction, which remains 4.1% above its July 2016 level. Outlays on public construction projects dropped 1.4% to their lowest level since February 2014.
Spending on private residential construction offers the only real positive news in an otherwise lackluster report.
Private residential construction rose 0.8% in July, its third consecutive monthly gain. Much of the recent strength is coming from single-family and home improvement.
"The trend in construction outlays is clearly slowing, as tends to happen this late in an economic cycle," Wells Fargo's analysis points out. "The trend in residential spending is likely to remain robust on solid demand for housing."