Data: US Census Bureau and HUD
The pace of single-family housing construction starts in the U.S. was effectively flat in July from a strong, but downwardly revised, June rate. In contrast, the multifamily market continues to slow with a 17.1% plunge from June to July.
Total starts declined 4.8% in July to a 1.155 million seasonally adjusted annual rate, according to data released jointly by the U.S. Census Bureau and Housing and Urban Development.
Single-family starts slipped 0.8% to an 856,000-unit seasonally adjusted rate. But compared to the first seven months of 2016, single-family starts are up almost 9% year-to-date. The National Association of Home Builders, in its analysis of the monthly data release, says, "This is right in line with forecast despite some monthly noise in the data."
Single-family permits were unchanged in July. However, single-family permits year to date are 11% higher compared to this time in 2016, with more than 487,000 permits filed this year.
As measured on a three-month moving average, the data are consistent with recent trends in the NAHB/Wells Fargo measure of single-family builder confidence and NAHB's forecast of modest single-family construction growth in 2017. The three-month moving average of single-family starts reached a post-recession high in April, and NAHB is forecasting continued growth for the sector as the year progresses.
Multifamily housing construction showed continued weakness. Starts of properties with five or more units were down 17% in July and are down 10% year to date. This decline is somewhat steeper than forecast. The current data continue to confirm that 2015 was the peak year in this cycle for multifamily construction starts.
Total permits issued for housing construction are up 4.1%, with gains limited to single-family and multifamily buildings containing two to four units. Permits for buildings with five or more housing units are down.
At the same time, builder sentiment jumped four points in August to 68, with all components registering gains during the month. Wells Fargo Economics says, "Single-family starts have not advanced as much as the still-elevated level of builder sentiment, likely reflecting the shortage of lots and overall construction costs including labor."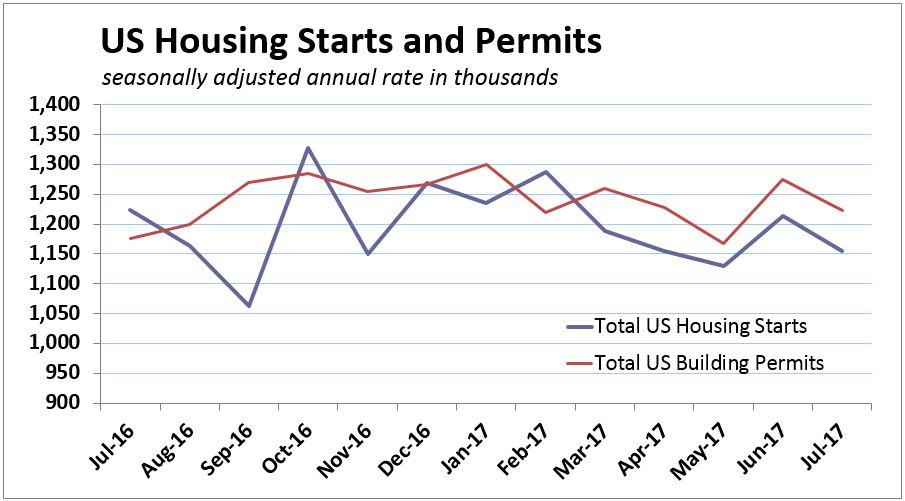 Falling multifamily starts and inconsistent single-family starts and permits have dealt the U.S. five housing-construction drops in six months. But year-to-date numbers continue to support forecasts for modest single-family growth in 2017, as the multifamily sector slows to a more sustainable pace.Data: US Census Bureau and HUD