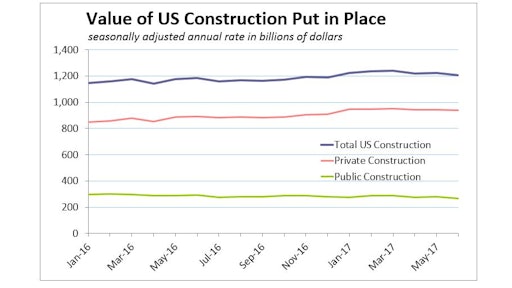 Data: US Department of Commerce
The total value of U.S. construction put in place in June unexpectedly fell 1.3% to a seasonally adjusted annual rate of $1,205.8 billion, following an upwardly revised May figure. Economists polled by Reuters had forecast June construction spending increasing 0.4%.
Private construction spending registered its third straight monthly decline, largely driven by weakness in residential construction (also in its third month of decline). Private nonresidential construction outlays eked out a second month of gain – just 0.1% – with 2.9% growth in office construction, 2.6% growth in spending on communications and +2.5% on amusement and recreation.
Public spending tumbled 5.4% in June – the sector's biggest drop since March 2002 – drawn down by a 6.6% plunge in highway-and-street spending and a 5.5% drop in the educational category. Public construction spending in all categories fell from May to June, and all but one (health care) was lower compared to June of 2016. The decline pushed public construction spending to its lowest level since February 2014.
Public Sector Drives Nonresidential Spending Down 2% in June
Monthly values are volatile, so looking at the trend will be more instructive. We find a sharp downward shift in momentum with total private outlays down on a three-month moving average annualized basis in June compared to an increase of more than 5% year-over-year.
The bigger questions:
What is driving the weakness?
Will the soft readings continue?
Trend: Single-Family Construction Offers Hope
Total private construction spending in the first half of the year is up more than 8% relative to the first half of 2016, with residential construction contributing more than two-thirds to the pace of total private outlays.
Much of the increase in private residential construction spending in the first half of the year is in improvements and single-family construction, while the pace of multifamily sector spending has slowed significantly. The moderating trend in multifamily permits and starts and softer underlying operating fundamentals are consistent with recent weakness in construction spending and suggest little upside risk in the sector.
Single-family construction spending is offering some glimmer of hope in the residential sector despite recent months' weak readings. Limited inventories and rising construction costs will likely continue to constrain more robust growth.
June US Housing Starts Rebound after Three-Month Slide
Private nonresidential sectors are also showing a softer trend. But the commercial sector is still lively. Indeed, commercial construction spending remained in the double digits in the first half of the year relative to a year earlier with only restaurants slipping. Institutional construction, however, is showing broad-based declines during the same period.
Longer-Term Issues: Rising Construction Costs
Increases in construction labor and material costs are outpacing inflation. According to the producer price index (PPI), nonresidential input prices increased 2.3% in June, and the three-month annualized rate is up a robust 13.2% suggesting more upside risks in input prices.
The shortage of labor is also putting upward pressure on construction costs. Since 2014, construction-sector average hourly earnings by quarter have advanced 2% to 3% relative to a year earlier, and will likely continue to grow given fewer available resources.
Wells Fargo Economics: Trend in Construction Spending Moderates Further