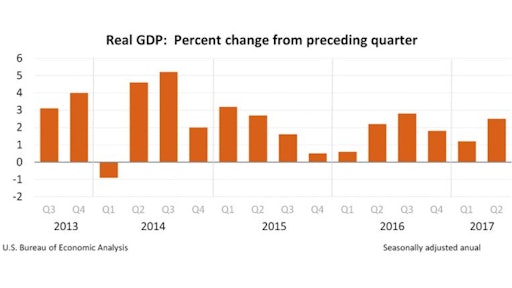 U.S. Department of Commerce
Growth in U.S. gross domestic product bounced back in the second quarter, up 2.6% after downwardly revised 1.2% growth in Q1. The 2.6% growth in the second quarter was the fastest pace since the economy expanded at a 2.8% rate in the third quarter of last year.
There were few surprises; personal consumption, nonresidential investment, government and trade were all supportive of second quarter growth. Residential investment declined after an outsized Q1 gain, and change in inventories had very little effect.
Residential fixed investment fell 6.8% in Q2 following its impressive 11.1% increase in the first quarter. Mild weather boosted construction in the winter months, which was at play in the first quarter's readings. With more normal weather in the spring, the Q2 housing market reflected two competing economic pressures:
strong income and job growth is pushing up demand
while supply of available homes remains stubbornly lean
Home sales data for June underscored this imbalance. Existing home sales declined more than expected, falling 1.8% to a 5.52-million-unit annual pace. Houses on the lower end of the price range are being crowded out disproportionately. Homes priced less than $250,000 account for the smallest share of sales in four years, when the National Association of Realtors began tracking the distribution. Resulting pressure on home prices continues to build; both median and average prices of resales were at record highs in June.
New home sales rose slightly in June, but downward revisions to previous months brought the Q2 sales level below that of Q1, which was reflected in the first Q2 GDP estimate. On a positive note, the median price for a new home declined in June as sales shifted toward lower-priced homes.
Much of the strength in the April-to-June period came from consumer spending, which grew at a 2.8% rate, up from a 1.9% growth rate in the first quarter. Consumer spending accounts for 70% of economic activity. The economy also benefited far more modest inventory reductions, which was a big drag on first quarter growth.
In the other major categories, business investment in plant and equipment grew at a 5.2% rate.
The government sector grew at a 0.7% rate, driven entirely by a big jump in defense spending. Domestic federal programs and state and local governments all showed small declines.
Coincident with its estimate of second-quarter GDP, the U.S. Commerce Department's Bureau of Economic Analysis also issued an annual benchmark revision of its data going back three years. The revision slightly boosted growth over the past three years, enough to lift the average growth in this recovery, now the third longest in U.S. history, to annual gains of 2.2%, up from the previous estimate of 2.1%.
U.S. Department of Commerce press release: Q2 2017 Gross Domestic Product