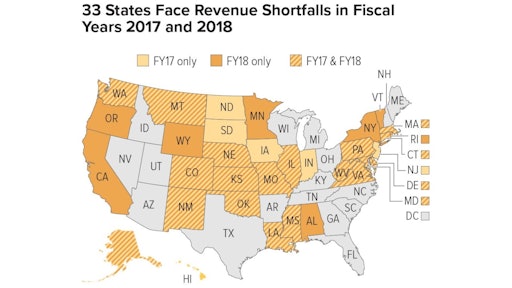 Center on Budget and Policy Priorities
The Trump Administration's $200 billion federal investment, intended to attract an additional $1.3 trillion in infrastructure investments, is less serious policy than it is pledge of allegiance.
Context matters.
The administration and Republican leadership in Congress just devoted the better part of a year trying to take health care away from Americans.
They capped the calendar with a $1.5 trillion national tax cut, 70% of which will go to the best-paid 20% of Americans.
It's an interesting coincidence that the White House repeats that we need the same amount – $1.5 trillion – to invest in U.S. infrastructure to ensure Americans' safety and maintain our nation's global economic competitiveness, referring to a $200 billion infrastructure commitment as a "$1.5 trillion" package.
The president's proposal sets aside half of its dedicated funds – $100 billion – as incentive to attract state, local, and private investment in infrastructure projects.
Trump's financial priorities are crystallized in the White House's suggested guidelines for choosing new infrastructure projects. Ability to find sources of funding outside the federal government will be the most important yardstick, accounting for 70% of the project-selection formula. How "the project will spur economic and social returns on investment" ranks at the bottom, at just 5%.
The new competition for federal funds gives priority to, for instance, building a better access road for a luxury development – a project with the potential to attract dollars from private investors. In comparison, a tunnel overhaul that can't be configured to turn enough revenue for an investor might never be approved.
"Instead of the public sector deciding on public needs and public priorities, the projects that are most attractive to private investors are the ones that will go to the head of the line," said Elliott Sclar, professor of urban planning and international affairs at Columbia University, told the New York Times.
So Trump started the infrastructure haggle with a low-ball bid based on the metrics that succeeded with the Republican tax act – pass money and power to corporations and damn the deficit.
It has little chance of becoming law.
A spending decision this big will require some Democrat votes to pass in the Senate. The Dems have already proposed a $1 trillion infrastructure bill of their own.
The administration can't depend on Republican senators to fall in line. Republican deficit hawks already chapped by the tax cuts' addition to the federal deficit are unlikely to vote for even the $200 billion in federal infrastructure expenditure in an election year because the proposal offers no continuing source of revenue to support it.
Another infrastructure incongruity is Trump's coincidental launch on the same day of a federal budget proposal that would add $984 billion to the federal deficit next year. The White House budget also suggests at least $1.8 trillion in cuts to federal benefit programs such as Medicaid, Medicare and food stamps.
Ultimately, the budget also attempts to offset some of its spending by slashing existing transportation programs, which would be cut by $178 billion over a decade, according to a detailed budget breakdown the Trump administration sent Monday to Capitol Hill. Grants to Amtrak would be halved, from $1.2 trillion to $538 billion, while the Army Corps of Engineers, which manages vast amounts of public infrastructure projects, would see a cut of more than 20%.
Succeeding this way requires a near-miraculous mathematical stretch.
Historically the feds share the cost of big highway projects at 80%, with states and local governments making up 20%. Trump's infrastructure plan would require states and local agencies to come up with at least 80% of the revenue, in order to get, at most, a 20% federal match.
That flip in financing "probably is not going to work," former Transportation Secretary and ex-Rep. Ray LaHood (R-IL) told NPR's Morning Edition Monday. "That idea just probably won't work because the states and local governments don't have any money." 
More states than at any time since the end of the recession reported midyear budget gaps in fiscal year 2017. And an unusually large number – 11 states – were late passing balanced budgets by the July 1 start of most states' current fiscal year, amid forecasts that tax revenue growth will remain sluggish in fiscal 2018.
Thirty-three states face revenue shortfalls in fiscal 2017 and 2018, according to the Center on Budget and Policy Priorities.
Trump's plan would preclude those states from providing for their citizens' and economies' infrastructure needs, and the necessary shift in funding methods would likely hamstring more-stable states' infrastructure efforts.
Use of public/private partnerships for providing highway infrastructure is growing in the United States, but dramatically below the Trump infrastructure proposal's ambition. Between 1989 and 2013, the value of contracts for all such projects whose costs exceeded $50 million was about $61 billion, representing 1.5% of the approximately $4 trillion (in 2013 dollars) spent on highways during the period at all levels of government. About half of that $61 billion was committed in the five years from 2008 to 2013.
The tax fight proved that Republicans will vote contrary to one of their marquee issues – fiscally responsible deficit reduction – in order to pass more power to corporations. Trump's hopeless opening gambit in this election-year infrastructure farce confirms that discussing the GOP's real top priority should no longer be contained to closed negotiations.
It will be interesting to see how Republicans who distance themselves from Trump's vision of corporate control of U.S. infrastructure spending make out at the polls in November.