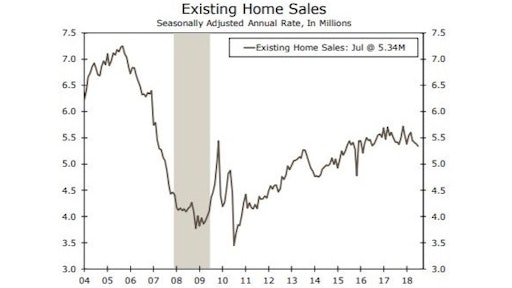 Wells Fargo Economics Group
Sales of previously owned homes in July slipped 0.7% in their longest downward slide in five years. It marked the fourth straight month of declines.
July sales were 1.5% less than in July 2017. Rising prices and limited inventory of affordable housing are continuing to sideline buyers despite solid economic growth in the 10th year of expansion.
A shortage of homes on the market has fueled the sharp rise in prices, which rose 4.5% in July from a year earlier to a median price of $269,600. Average hourly wages, by comparison, were up just 2.7%.
Sales of homes priced at less than $100,000 led the decline, falling nearly 11% from July 2017. Sales of homes priced $1 million or more, by comparison, rose 16%. Buyers at lower price points appear to be struggling more as home-price gains outpace wage increases.
(more on July U.S. homesales slide . . . ) 
July New US Home Sales Fell: Third Time in Four Months
Sales of new homes fell 1.7% in July, following a 2.4% drop in June