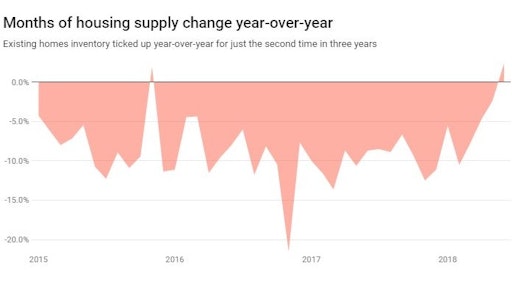 Data: National Association of Realtors; graph: Curbed.com
With housing inventory shortages rampant across the nation, the summer of 2018 was supposed to be "the most competitive housing market in recorded history."
But as July turns to August, reports suggest the rush of buyers missed many markets. Existing homes sales have fallen, compared to the same months last year, in four of the last five months. New U.S. home sales fell 5.3% in June to an eight-month low. It was the second drop in new-home sales in three months. June housing starts plunged 12.3%. Residential building permits issued in June dropped for the third consecutive month.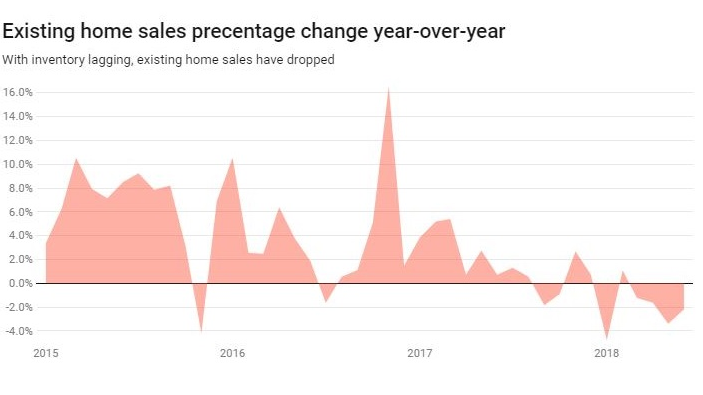 Existing homes sales have fallen year-over-year in four of the last five months. New U.S. home sales fell 5.3% in June to an eight-month low. It was the second drop in new-home sales in three months."It's alarming that single-family construction permit growth is decelerating, at a time when homeownership is rising and Millennials are reaching their peak age to really enter the market and buy their first home," said Sam Khater, chief economist for Freddie Mac, in a statement about the Commerce Department's June housing estimates. "The growing imbalance between demand and supply is the reason home prices continue to escalate."
Home price growth has yet to be affected but the apparent weakening of demand suggests that the housing market may finally be cooling.
Housing inventory shortages have been a primary factor in rising home prices over the last three years. At the same time, skyrocketing building costs and the demographics of those who have money to spend in a period of declining wages has ensured a steady flow of expensive premium housing. Home prices have been rising at least twice as fast as incomes for the past four years.
"Home sales, new home construction and outlays for renovations and repairs were collectively a net drag on overall growth during the first half of the year, even as real GDP growth ramped up to a 4.1% pace during the second quarter," according to special commentary on housing by the Wells Fargo Economics Group.
After nine years of U.S. economic growth, the housing industry is starting about 30% fewer single-family homes than the 1.3 million units that the National Association of Homebuilders calls a normal level of housing starts. The pace of multifamily starts has trended down since January.
"Higher lumber prices in light of tariffs on Canadian softwood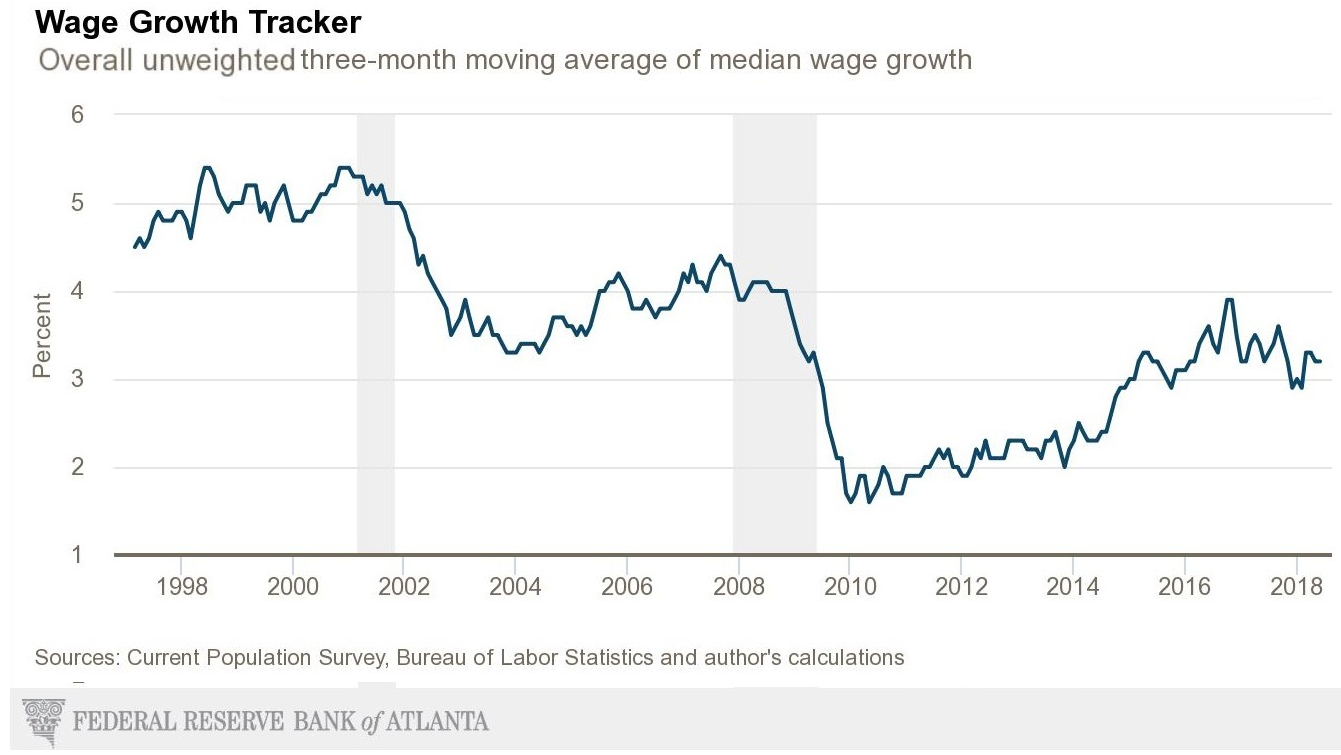 U.S. wage growth has slowed since November 2016 more steeply than it rose between November 2013 and 2016. Despite strong employment, wage growth has lagged economists' expectations. After accounting for inflation, today's average wage has about the same purchasing power it did 40 years ago.Federal Reserve Bank of Atlanta lumber and higher building material prices in general may be causing some builders to hold off on some projects, particularly starts of lower priced homes, which simply do not have enough profit margin in them to absorb these higher costs," according to analysis by Wells Fargo Economics of the U.S. Commerce Department's June monthly housing construction estimates. "Those higher costs are likely weighing even more heavily on apartment projects, which have seen permits tumble at an astounding 58.2% annual rate over the past three months."
With prices already at all-time highs in most markets, rising interest rates exacerbate affordability problems. Rates were hovering below 4% going into 2018 but have since shot to as high as 4.6%.
Although it can vary market to market, these factors all point to housing affordability being pushed beyond what many people can pay. The clearest evidence is that months of supply for existing homes ticked up year-over-year in June for only the second time in three years. Given the total number of existing homes for sale has been falling, the uptick in months of supply is likely attributable to a slower pace of home sales.
In some markets, the increase in inventory is more pronounced. According to Realtor.com, active listings in July were up 44% year-over-year in San Jose, 29% in Seattle, 19% in Portland, 18% in San Diego, and 15% in Dallas.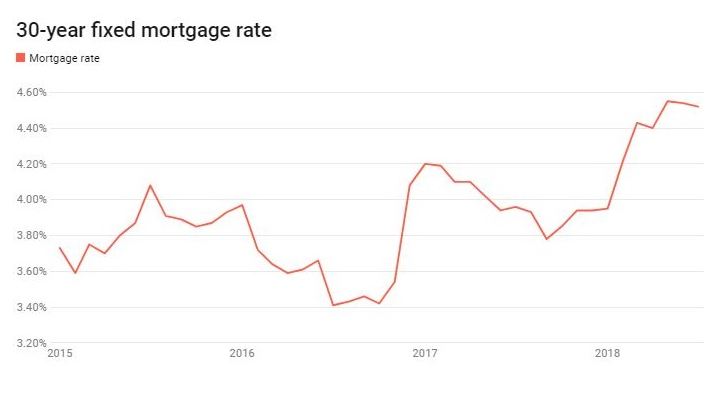 Interest rates were below 4% going into 2018 but have since shot to as high as 4.6%. Prospects of rising rates pushes premium buyers to buy sooner, but can put off first-time buyers indefinitely.
Moody's just released a positive outlook for the U.S. homebuilding sector, reflecting enthusiasm for fundamental business conditions overcoming housing headwinds over the next 12 to 18 months:
Momentum – key underlying drivers of housing demand, with homebuilding growth, now in year seven, and the overall economic expansion, now in year nine, show few signs of slowing.
Millennials – the biggest population cohort in the U.S. workforce is entering the housing market – both for purchases and for rentals – in powerful and increasing numbers.
Consolidation – homebuilders are finding it cheaper and quicker to enter new markets, and easier to go much deeper in existing markets, by buying competitors rather than "green fielding."
Credit metrics – for much of the homebuilding industry, debt leverage is gradually being reduced, interest coverage is strengthening and recent declines in gross margins are slowing and even stopping.
It does appear U.S. economic fundamentals are little changed over the past few years. Those fundamentals have produced two-thirds of normal housing construction volume since the economy turned solidly up five years ago. Those aren't laurels to rest on.
It's possible the larger economy's momentum and the direction of home buying might diverge, as this spring and summer have already seen a few months' declines in home sales, home construction and permits issued. Home prices and mortgage rates continue to rise, and mortgage-interest deductions have been curtailed. These conditions are unfolding in an environment where U.S. wage growth has slowed since November 2016 more steeply than it rose between November 2013 and 2016.
Millennials should be doing a significant portion of home buying, given 20-somethings' high potential for forming new households. Instead, they earn 20% less than the Baby Boomer generation did when they were in their 20s. And Millennials also have exponentially more student loan debt to repay than any other generation before. Inflated home prices and limited starter inventory are not in their favor.
I'm not an economist, so even if I wanted to make predictions, they wouldn't be worth much. But here's an early warning from somebody who knows: "Housing market activity – sales and construction – likely has peaked for this cycle," Ian Shepherdson, chief economist at Pantheon Macroeconomics, told clients after the Commerce Department's release of June housing construction data this month.
California Home Sales Drop 10%; Sales Pace Slowest June in Four Years