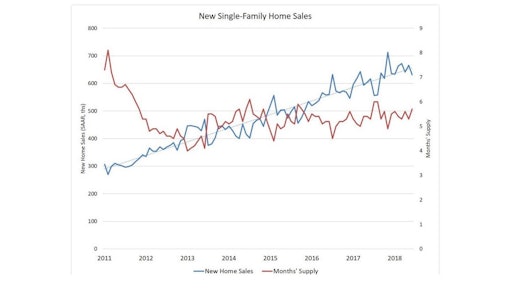 National Association of Home Builders
Contracts for new, single-family home sales in the U.S. declined in June, falling 5.3% to a 631,000 seasonally adjusted annual rate according to estimates from the joint release of HUD and the Census Bureau. The decline came off a May estimate revised down 3.3% to 666,000. annual rate  Sales have fallen in two of the past three months.
The June estimate was the lowest annual pace since October 2017, a reminder that builders must manage costs as affordability concerns rise. While affordability conditions remain positive and the labor market sees low unemployment, prospective home buyers face increased uncertainties as interest rates trend higher and trade war concerns grow.
"June's softer new home sales should serve as a bit of a wakeup call," according to the Wells Fargo Economics Group's analysis of the Commerce Department numbers. "Housing simply is not going to strengthen as much as had been hoped. Higher mortgage rates and rising home prices are apparently a bigger hurdle than policymakers expected."
Despite the disappointing June estimate, total sales for the first half of 2018 (349,000) were 6.9% higher than the comparable total for 2017 (327,000). We expect the volume of new home sales to continue to expand along the current modest pace, subject to monthly volatility and supply-side cost concerns.
Inventory increased in June to 301,000 single-family homes for sale. The current months' supply stands at a healthy level of 5.7. Given tight existing home inventory, more new homes can be absorbed by the market.
Median new-home sales price (price of a home in the middle of the distribution) declined for the third consecutive month, falling to $302,100. Average home sales price also declined for the month. Managing rising construction costs in the months ahead will be a key challenge for housing affordability, as input costs increase, although recent declines in lumber prices should help.
For the first half of 2017 (and relative to the first half of 2018), new home sales were up 14.4% in the Midwest, 7.3% in the South, 4.8% in the West, and down 1.3% in the Northeast.