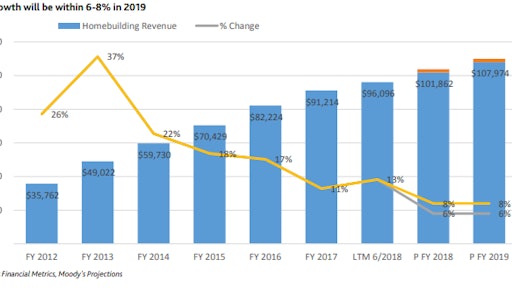 The outlook for the US homebuilding industry has changed to stable from positive, Moody's Investors Service says in a new report. Although many of the factors underlying the industry's health remain in place, after a seven-year homebuilding expansion signs of a slowdown are increasing.
Moody's industry outlooks reflect its assessment of the fundamental business conditions in a given industry over the next 12 to 18 months.
"The change to a stable outlook for the US homebuilding industry reflects our belief that industry revenue growth will be below 10%, in the 6%-8% range, in 2019," says Joseph Snider, a Moody's VP-Senior Credit Officer and co-author of the report. "In recent months the number and strength of headwinds hindering growth have increased, particularly rising mortgage rates, declining affordability and ballooning new home inventories, along with slowing customer traffic and order rates."
Some key macroeconomic factors also point to slower growth ahead, notes Moody's, including budget deficits expanding despite robust economic growth and low unemployment. Additionally, geopolitical risks abound, such as trade tensions between the US and China that could disrupt business and consumer confidence.
"The current buyer softness may be temporary given that the industry's underlying fundamentals are still strong," says co-author Natalia Gluschuk, a Moody's AVP-Analyst. "That said, we do not anticipate a return to the robust order books of the last few years that produced superior revenue growth."
Moody's U.S. Homebuilding Outlook - November 5, 2018
Reasons to Suspect the US Housing Market is Starting to Cool