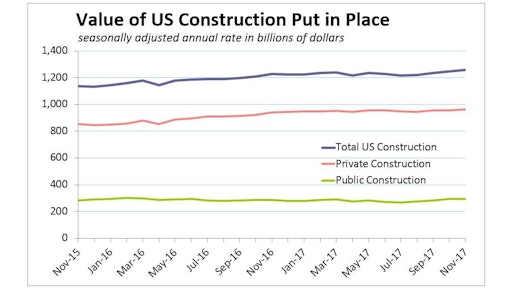 Construction spending was up 0.8% in November on broad-based strength. Both public and private spending increased for the third straight month. Public spending has gained traction in recent months, but remains down 2.8% year to date.
The Wells Fargo Economics Group's analysis of the U.S. Census Bureau's monthly estimates of value of construction put in place says revisions to the October numbers brought growth in total outlays to an 8.8% three-month-average annualized growth rate in November.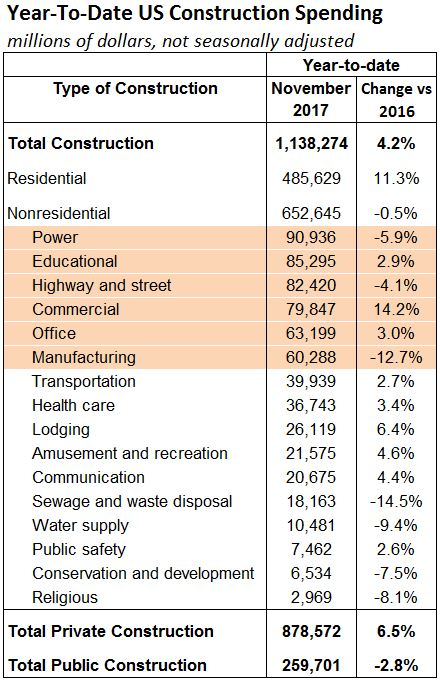 The six largest nonresidential construction segments make up 71% of all nonres. spending. Year-to-date spending has fallen in three of those segments -- power, highway and street, and manufacturing. Only about 78% of those losses have been offset by growth in the other three leading segments -- educational, commercial and office construction.
Gains were largely driven by the residential sector, which rose 1.1%. A 1.0% rise in private residential spending was driven by outlays for single-family homes and repairs. Spending for private multifamily projects was down in November but remained positive year to date.
Nonresidential construction spending expanded 0.6% in November to a $719.2-billion seasonally adjusted annual rate. Spending on nonresidential construction year to date is, nevertheless, down 0.5%.
"The November report represented a stark reversal of preexisting trends," said Associated Builders and Contractors Chief Economist Anirban Basu. "For much of the past several years, the pattern in nonresidential construction spending has been one in which a number of private categories expanded briskly, including lodging and office, while a host of public construction categories experienced sluggish spending. That changed in November, with public construction spending rising and private construction spending shrinking on a year-over-year basis.
"There are several possible explanations, including growing concerns about overbuilding in a number of large metropolitan areas in the lodging, office and commercial categories," said Basu. "Financiers may also be less willing to supply financing to a variety of private projects given such concerns.
"At the same time, the U.S. housing market is the strongest it has been in at least a decade, raising sales prices and expanding assessable residential tax bases. That in turn has supplied additional resources for infrastructure. Over the past year, this has been particularly apparent in the educational and public safety categories."