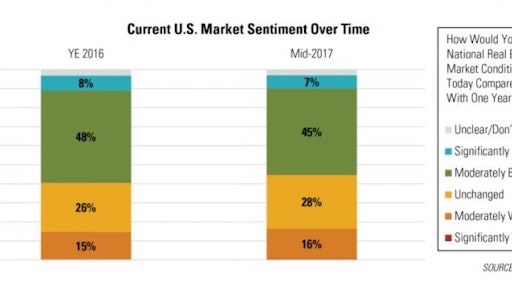 RCLCO Real Estate Market Sentiment Survey, Mid-Year 2017
Advisor to the real estate industry RCLCO's last industry sentiment survey at the end of 2016 reported new-found optimism for the real estate market buoyed by promised changes coming to the federal government. Many of the experienced real estate, development and builder respondents indicated that the likelihood of tax reform, deregulation, and other business-friendly policies would extend, and perhaps even lift, the then eight-year economic expansion.
The results from the current, midyear 2017 Real Estate Market Sentiment survey are clear: enthusiasm for the new president and his ability to deliver on policies has faded, but outlooks remain cautiously optimistic. There is widespread agreement that while the current cycle may be sunsetting, fundamental conditions remain strong for the near- to mid-term.
The percentage of survey respondents who say U.S. real estate market conditions are moderately or significantly better today than they were 12 months ago dropped four percentage points since the end of 2016 to 52%
The share of respondents reporting worse market conditions today than one year ago is up 1 point to 16%
Respondents expecting improved real estate markets over the next 12 months fell 9 percentage points to 43%; well above the 33% of respondents a year ago
Those expecting worse conditions within the next 12 months is virtually unchanged at 24%
About five months into the Trump presidency, respondents expecting the administration to have a somewhat or very positive impact on U.S. real estate markets in the coming 12 months plunged 23 points to 36%
Respondents expecting Trump to have a negative impact on real estate markets jumped 10 points to 28%
Respondents who say the downturn will begin in 2019 rose 16 points to 65%, while those who predict a 2018 downturn fell 14 points to 26%
RCLCO's Real Estate Market Index (RMI), which measures real estate executives' sentiment on a 100-point scale, continues the slide it started in 2015.
"Current sentiment is somewhat lower today than it was six months ago, and respondents predict sentiment will be lower this time next year," according to RCLCO's commentary on the survey results. "In other words, the real estate markets continue to experience the characteristics of the mature phase of the current real estate cycle."
RCLCO Mid-Year 2017 Sentiment Survey Part 2: How Long Will the Expansion Continue?

Real estate executives who predict the downturn will begin in 2019 rose 16 points since year-end to 65%, while those who predict a 2018 downturn fell 14 points to 26%.RCLCO Real Estate Market Sentiment Survey, Mid-Year 2017