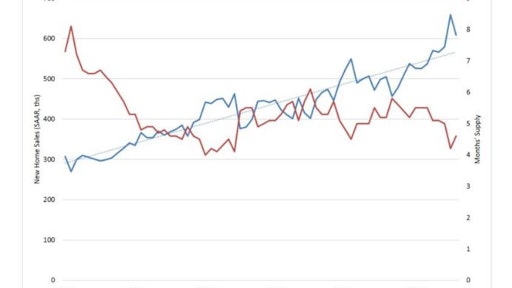 Housing starts, building permits and existing home sales all came in softer than expected in August. Tight inventory of available homes continues to limit many U.S. housing markets. The inventory of homes for sale shrank 10.1% over the past year, while the median price of a sold home rose 5.1%.
Sales of newly built, single-family homes fell 7.6% in August to a seasonally adjusted annual rate of 609,000 units, after July sales jumped 12.4% to a post-bubble high. New-home sales for August were almost 21% stronger than August of 2015.
New home building has averaged a seasonally adjusted annual rate of 1.16 million units in 2016.
Moreover, single-family home building appears to be gaining momentum as apartment development levels off. Permits for future home construction were down slightly in August, although the decline was all in multifamily permits. Single-family building permits rose 3.7% on the month suggesting solid single-family starts in coming months.
The September reading of the National Association of Home Builders (NAHB)/Wells Fargo Housing Market Index jumped to a post-recession high. Confidence soared in builders' assessment of present and future sales as buyer traffic picked up. "Fundamentals are supportive of a solid period of housing market activity as mortgage rates are low, job growth remains solid, apartment rents continue to rise and millennials are aging into homeownership age," according to Wells Fargo Economics' analysis of last week's various housing numbers. "We expect the housing market to contribute positively to GDP growth in the second half of the year, with the bulk of the improvement in the fourth quarter."
National Home Prices Edge Higher in July

August New Home Sales Give Back Part of July's Big Gain
Low Inventories & Affordability Issues Likely Stall Existing Home Sales