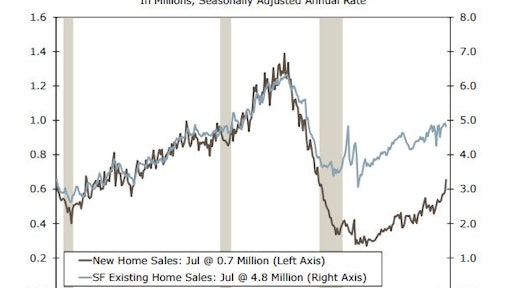 Second-quarter 2016 U.S. GDP was revised down slightly last week to 1.1% on continued retraction in inventory investment and declining government spending. Inventories have not been a drag on the economy for five consecutive quarters since 1957, but Wells Fargo's Economics Group expects that dynamic to shift in Q3.
"Real final sales, at 2.4%, continue to indicate that underlying growth has been stronger than the headline, which supports our outlook for a rebound in topline GDP in Q3," according to Wells Fargo's weekly economic review.
Consumer spending continues to drive the economy forward, growing at a 4.4% annual rate during the second quarter and starting the third quarter strong.
That confidence helped propel July new home sales to a 12.4% jump despite forecasts for decline. The increase lifts sales to pre-recession levels. While month-to-month new home sales can be volatile, sales are up 12% year-to-date.
Existing home sales fell 3.2% in July, though.
The disconnect between the new and existing home sales figures is likely a reflection of tight inventories of existing homes. Existing home sales are down 1.6% over the past year. Inventories, on the other hand, are down 5.8% since last July.
Affordability may also be limiting sales. The median price of an existing home is up 5.4% over the year, and FHFA and Case-Shiller indices show home prices outpacing incomes over the past year. Higher sale prices have been partially offset by lower mortgage rates, but affordability is down nearly 3% year to date.
July U.S. Housing Starts Deliver another Pleasant Surprise

Back-to-back strong monthly employment reports, despite many misgivings about job creation, suggest why consumer spending remains strong.
Nonfarm payrolls blew past expectations in July, rising 255,000 on the heels of June's 292,000 leap. Recent volatility in the top-line number notwithstanding, monthly nonfarm payrolls gains have averaged a rock-solid 186,000 in 2016.
"There are some hypotheses (about why productivity and personal income are not keeping pace with job growth)," says Eugenio Aleman, Wells Fargo senior economist. "One is the big drop-off of the labor force is from people retiring. My guess is that these people retiring are the most productive of the labor force, and they're retiring at a fast pace. The least productive [workers] are coming up, and it will take some time for them to become more productive. So productivity has been very, very low. If you have lots of employment growth and you don't have productivity growth, then economic growth is not going to be strong."
Construction Unemployment Rate Hits Lowest Point in 16 Years
"Continued employment growth, coupled with a more stable labor force participation rate and strengthening average hourly earnings, support our call for a December rate hike by the Fed," Wells Fargo's analysis says.
Last week, Federal Reserve Bank Chair Janet Yellen said that the economy is nearing Fed goals, including a rise to near 2% inflation by the end of 2017. Wells Fargo Economics says this inflation projection is consistent with a Fed interest-rate hike in December.
Construction Continues to Increase Its Percentage Contribution to National GDP