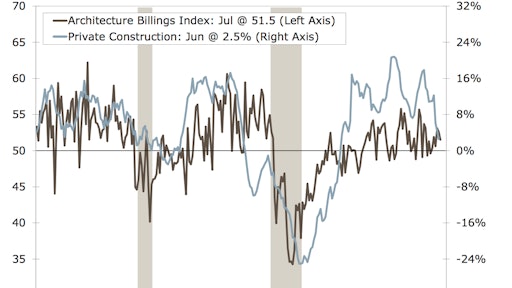 The Architecture Billings Index (ABI) was positive in July for the sixth consecutive month, and tenth out of the last 12 months as demand across all project types continued to increase, according to the American Institute of Architects (AIA).
While the ABI was positive in July it still reflected weakening billings for a second consecutive month. The ABI fell 1.1 points from 52.6 in June to 51.5 in July. The new projects inquiry index, which tracks a firm's capacity to take on additional work, also dropped 1.1 points from 58.6 in June to 57.5 in July, but still remains in positive territory.
"The uncertainty surrounding the presidential election is causing some funding decisions regarding larger construction projects to be delayed or put on hold for the time being," said Kermit Baker, AIA Chief Economist, Hon. AIA, PhD. "It's likely that these concerns will persist up until the election; and, therefore, we would expect higher levels of volatility in the design and construction sector in the months ahead."
Regional readings were mixed. The Midwest and South both showed increases while the Northeast and West registered billing declines in July, according to Wells Fargo Securities. In fact, the South experienced its sixth monthly increase in July. The fall in the Northeast and West are more than likely transitory and not a start of a trend, as below-50 readings have not been lasting for these two regions.
Midwest 50.1 (+1.9 points)
South 56.9 (+1.4 points)
Northeast 49.3 (-2.5 points)
West 49.2 (-4.9 points)
Wells Fargo points out that the residential sector continues to be a bright spot in the index. Despite falling two points in July, multifamily remains in expansion territory with a solid 55.2 print. This sector has been above the 50-threshold for the past 11 months after contracting for six months, which is consistent with the solid recovery seen in private multifamily construction spending that is now up 16.4% year over year.
Nonresidential sectors hovered close to the 50-threshold during the month. Institutional billings weakened in July, falling two points to 50.7. Private institutional construction spending has also weakened, especially in healthcare and education; however, religious and recreation are also softening.
Mixed billings, which include more than one sector, slipped a half of a point to 50.5, returning close to the 50-threshold range that has been seen for most of the year. Commercial/industrial billings were unchanged in July at 50.3. The AIA does not breakout commercial and industrial billings; however, strengthening fundamentals in both sectors are signaling growth.
According to the U.S. Bureau of Economic Analysis, structure investment declined at a 7.9% annualized pace in Q2. However, we expect overall construction spending to increase, driven by commercial outlays, even as institutional spending moderates, which should help increase structure investment going forward.