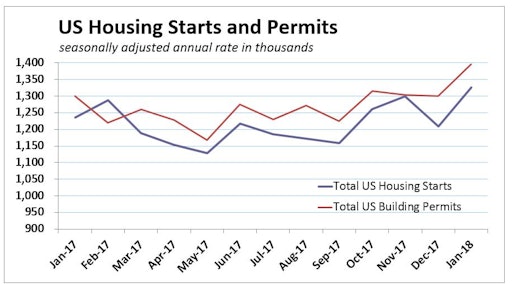 Total U.S. housing starts more than doubled some January forecasts, led by strong gains for multifamily development. Starts jumped 9.7% to a 1.33 million seasonally adjusted annual rate, according to the joint data release from the Census Bureau and HUD.
The pace of single-family starts expanded in January, rising 3.7% to an 877,000 seasonally adjusted annual rate. The three-month moving average for single-family starts remained near a post-recession high rate of construction (890,000 units). The gains for single-family starts match ongoing healthy levels of the NAHB/Wells Fargo Housing Market Index, now registering a score of 72. Single-family permits posted a slight decline of 1.7% in January, but that decline was off a strong December permitting rate.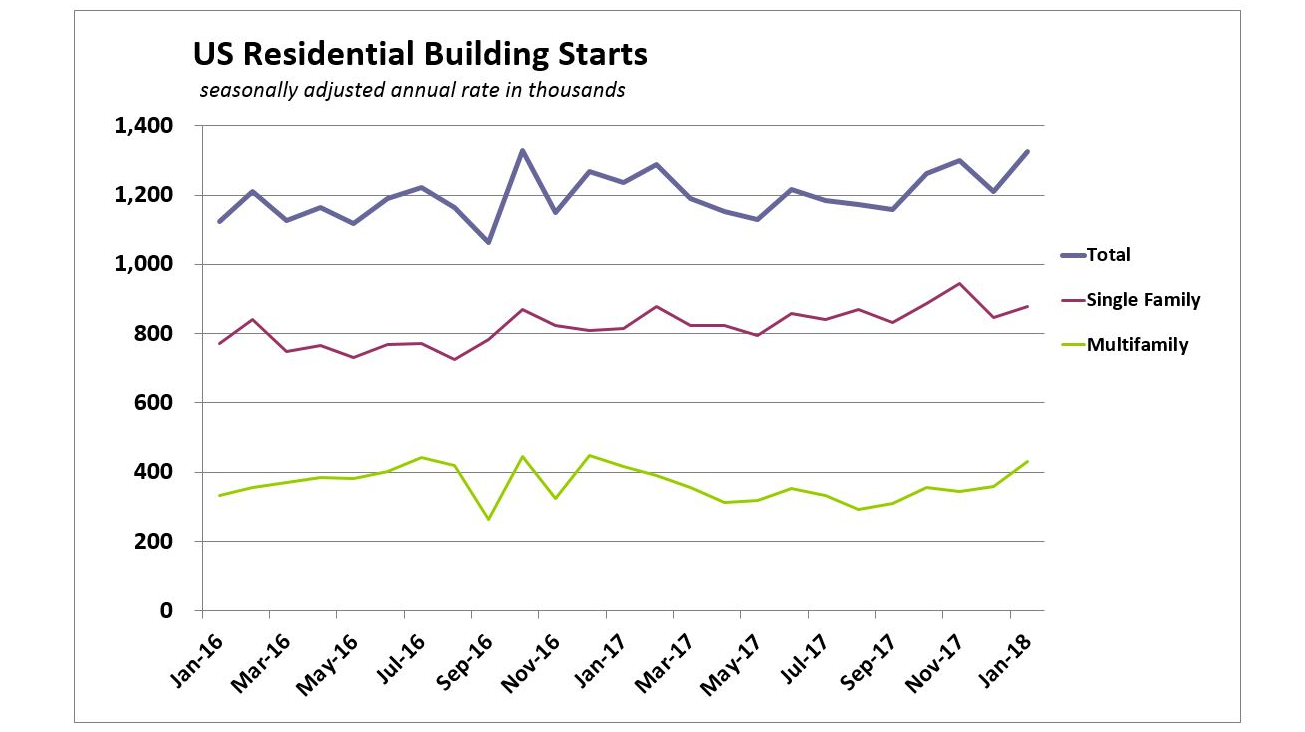 Multifamily housing starts surged 23.7% in January, while the much larger single-family segment rose 3.7% to an 877,000-unit annual rate. The three-month moving average for single-family starts remained near a post-recession high of 890,000 units.
The Wells Fargo Economics Group's analysis points out how volatile monthly housing data have been. Revisions to the November and December data now show starts rising 3.0 percent in November and then falling 6.9 percent in December, before rebounding in January.
The Northeast posted the largest percentage gain in January, with overall starts surging 45.5 percent to a 128,000-unit seasonally adjusted annual pace. Single-family starts rose 34.7 percent, while multifamily starts jumped 59.0 percent. Permits had surged during the prior month and builders were able to follow through with their projects.
Building permits fell 16.9 percent in the Midwest and are now running slightly below starts. Starts in the Midwest fell 10.2 percent, with single-family falling 4.0 percent.
The South and the West account for the bulk of new home construction. Both regions are seeing strong population and employment growth. Houston, Dallas, Atlanta, Phoenix and Austin ranked as the top five markets for single-family permits this past year and construction activity is likely to be stronger in most of these areas this year.
Housing starts in the South rose 9.3 percent in January,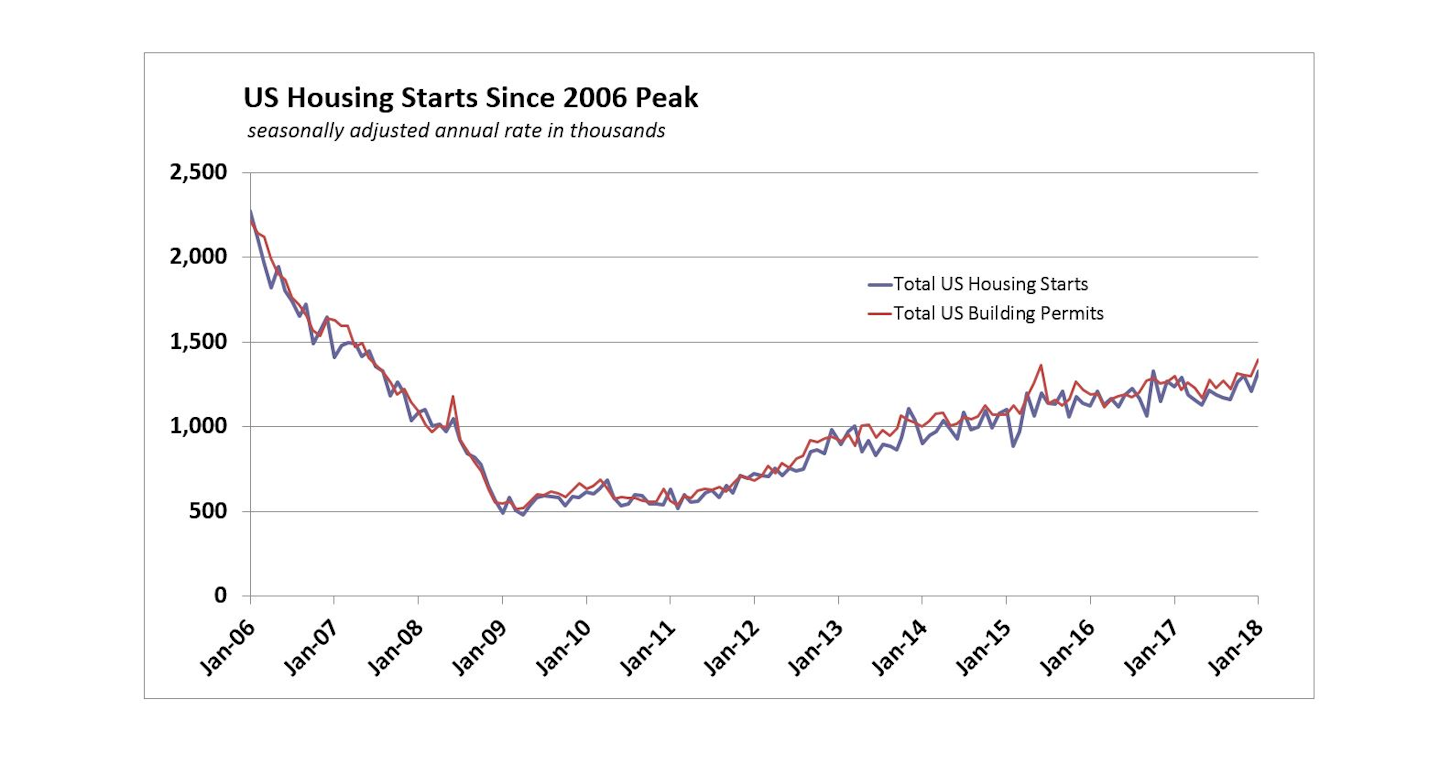 The annual rate of total U.S. housing starts remains at just 58% of the pre-recession peak, but the value of residential investment has risen to 84% of that recorded before the market meltdown. with single-family starts rising 4.5 percent. Permits jumped 21.9 percent in the South, however, mostly for multifamily projects, which surged 92.5 percent. Permits for single-family homes rose a more modest 3.5 percent. The pace of building permits for both single-family homes and multifamily homes remain slightly above starts, suggesting that homebuilding has strong momentum in the South.
The West saw starts climb 10.7 percent in January but single-family starts slipped 0.4 percent. Overall permits rose 5.3 percent in the West, while single-family permits fell 1.3 percent. Homebuilding has strong momentum in the West, but supply constraints continue to weigh on many markets. Shortages of lots and rising costs for workers and building materials aremaking it difficult for builders to build affordable homes in much of the West. Some of the strongest growth is now taking place in more affordable parts of the region, including the Inland Empire, Phoenix and Las Vegas.
While starts increased in January, the number of units under construction was unchanged on the month at a 1.12 million annual rate, while the pace of completions fell slightly to a 1.166 million unit pace. All of that drop was in multifamily units. Builders have ramped up construction of single-family homes and completions should rise going into the spring selling season.