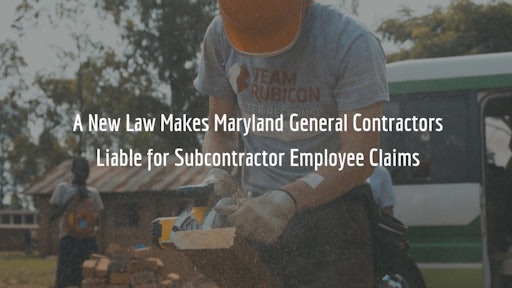 By Todd Bryant, President, Bryant Surety Bonds
Beginning October 1, 2018, general contractors in Maryland will become liable in instances in which subcontractors have not paid their employees. This change was instituted by Senate Bill 853 which was passed and enacted at the beginning of April.
The effects and consequences of this law for both general contractors and subcontractors are significant and may in the end increase the costs of projects themselves. The law will likely also have an effect on the amounts and duration of the surety bonds required for construction projects.
Provisions of Senate Bill 853
Senate Bill 853 introduces a series of provisions for general contractors in the state which may have long-reaching effects. This bill follows similar bills enacted in other states which include provisions that make general contractors liable for the delay or non-payment of subcontractor employees by their employer.
In particular, the provisions of SB853 include:
That an employee of a subcontractor can bring action against their employer after two weeks of a delay in payment after they were supposed to be paid
That in the above case, a court may award the employee an amount up to three times the wage they are owed, along with "reasonable counsel fees and other costs"
The bill further specifies "construction services" in a rather broad way, and then goes on to state that general contractors are "jointly and severally" liable for any action brought against a subcontractor. Moreover, this also applies in cases of subcontractors that are not in a direct contractual relationship with the general contractor.
This latter condition may make it quite difficult for general contractors to determine the legitimacy of certain claims. General contractors are typically not in possession of the necessary documentation in cases in which claimants are employees of third or fourth tier contractors. This makes room for fraudulent claims to be made.
SB853 does make clear that general contractors are to be indemnified by subcontractors for wages, damages, fees and else. Exceptions to this requirement are cases in which indemnification is already specified in the contract between the general contractor and the subcontractor or in cases in which violations are due to a delay in payment on the end of the general contractor. While the indemnification provision does tilt the scales in the other direction, it will ultimately depend on the ability of a subcontractor to repay a general contractor.
That, in turn, may mean that general contractors will have stricter requirements towards their subcontractors as well as everyone else down the line.
Changes to Contract Surety Bonds
With this new law now in place, general contractors' policies towards their subcontractors and their requirement for subcontractors surety bond status may change significantly. Wage claims in Maryland can be made for as much as three years after an incident. As a result, general contractors are sure to demand that all subcontractors obtain and maintain bonds for at least three years after performing work on a project.
What's more, since a court may award claimants with as much as three times the wages owed, subcontractors will likely be required to obtain bonds in amounts that will be able to cover high claim amounts. Several analyses of the legislation which have already been published suggest that all of this will likely result in higher costs for construction projects in Maryland. It will also raise the bar for smaller and new contractors and possibly limit their access to projects.
It is suggested that contractors begin preparing for the effective date of the law, given its potentially large-scale effects. What do you think about SB853? What do you think will be its effect on Maryland's construction industry? Let us know in the comments!
Todd Bryant is the president and founder of Bryant Surety Bonds. He is a surety bonds expert with years of experience in helping contractors get bonded and start their business.