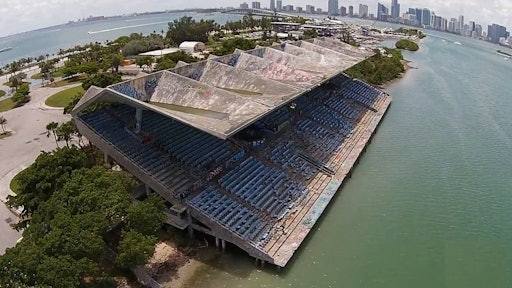 Rendering of Marine Stadium, with floating stage, restored.The City of Miami has committed $42 million to restore the Miami Marine Stadium and create a mixed-use park around it.
"We want this to be a signature space," the municipality's chief of urban design, David Snow, said at a recent town hall meeting organized to solicit public opinion.
Miami Marine Stadium was built in 1963, designed to have a stage floating in the bay. In 1992, Hurricane Andrew swept through South Florida, leaving cracks in the foundation that prompted Miami officials to condemn the building.
Advocacy group Friends of Miami Marine Stadium successfully fought to have it designated as a historical landmark in 2008, and it was added to the National Register of Historic Places in April 2018.
Officials hope the restoration will be completed by 2020.