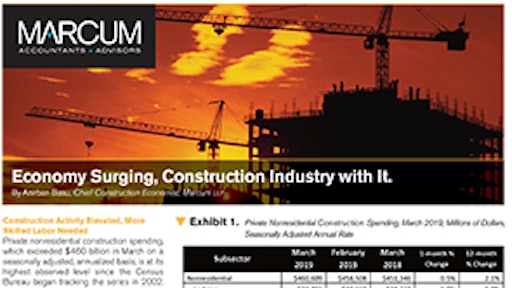 The Marcum Commercial Construction Index for the first quarter of 2019 reports the highest levels of private nonresidential construction spending ever recorded. The index is produced by Marcum's National Construction Services group.
Bolstered by increasingly strong spending in manufacturing construction, private nonresidential construction spending reached $460 billion in March, on a seasonally adjusted, annualized basis. This represented a gain of 2.1% from a year earlier. Manufacturing construction spending was $70.3 billion for the month, up 10.3%.
Public construction spending in March increased 9% year-over-year, to $314.6 billion. Spending in the highway and street category expanded 13.4%, surpassing power as the largest nonresidential construction subsector.
Spending in all 16 nonresidential construction subsectors totaled $775.2 billion in March, up 4.8% from a year ago. The greatest percentage gains were in water supply (13.8%), conservation and development (13.5%), and highway and street (13.4%). Only three subsectors — commercial, religious and communication — registered declines for March as compared to a year earlier.
Anirban Basu, the report's author and Marcum's chief construction economist, said, "With lengthy backlogs in hand and given the ongoing momentum apparent in the U.S. economy, contractors have little reason for concern regarding near-term demand for construction services. Accordingly, hiring activity continues to be robust even in the context of large-scale construction skills shortfalls."
Nonresidential construction added 32,400 net new jobs in April and 163,000 year-over year. In parallel, the industry's unemployment rate continued to fall, dropping 2.2 percentage points in April from the same month a year ago. The 4.7% unemployment rate in April was the lowest construction unemployment recorded for any April since the Bureau of Labor Statistics began reporting this statistic in 2000.
"Given both quantified and anecdotal information regarding the growing scarcity of workers, one might suspect that construction wages would be surging. But they are not. Average hourly earnings for construction employees increased 3.1% over the past calendar year, a tenth of a percentage point slower than the average for all industries," the report says. Basu attributes the apparent discrepancy to a composition shift in the construction workforce, with older, better-compensated workers transitioning to retirement or less physically taxing jobs and a shortage of new skilled workers to replace them.
Looking ahead
Basu puts the rosy picture for construction in the context of global economic uncertainty. "The probability of a full-blown trade war between the world's two largest economies has expanded recently. Brexit continues to hang over financial markets and the global economy. Corporate debt is a problem, as America's national debt recently surged past the $22 trillion mark. Another federal debt crisis ceiling is possible later this year. In nominal terms, consumer debt has never been higher, though monthly debt service payments remain manageable in the context of unusually low interest rates," he wrote. "Then there are next year's presidential elections. Elections help stimulate a psychology of uncertainty, which results in less spending and investment. If the global economy continues to slow, markets give back some of their gains, and inflation finally becomes apparent, 2020 could be the year of the next downturn."

Marcum's national construction leader, Joseph Natarelli, said, "Our first quarter commercial construction index is highly encouraging about the current state and near-term future of the construction industry. However, none of these promising data will translate to profits or success if there are not enough people to do the jobs. Based on what we've been seeing in our indices for quite a while, a future labor shortage is a real possibility, which always means higher wages. The good news is that the salary increases we're seeing in the industry aren't all that high right now — about 3%. To secure the future, we need to ask questions, today — Is there the bench depth to replace retiring workers? Are there the education and skill development programs up and running to nurture that next generation of tradespeople? It's on us to know the answers and, whenever possible, to work with our communities and trade organizations to see that the answers to both questions are yes!"