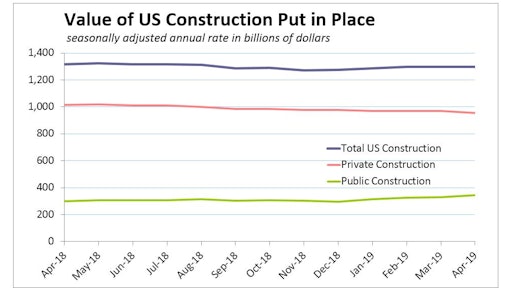 Data: U.S. Department of Commerce
Total U.S. construction spending was unchanged during April as residential spending fell 0.5%, while nonresidential outlays rose 0.3%. This month's Department of Commerce construction data shows total year-to-date construction outlays are 0.2% greater than the same period last year.
The value of construction put in place by the public sector rose 4.8% during the month to outweigh a 1.7% drop (the steepest in six years) in private outlays. Public spending rose to a record high of $344.6 billion, led by big gains in state and local government spending, which also rose to record levels. Government spending on highways and streets jumped 6.8%, while school construction rose 2.1%. Federal spending rose to $24.5 billion, the highest since July 2013.
Spending on private residential construction decreased 0.6% – the fourth consecutive month of declines for this driver of overall U.S. construction. With the immense single-family category flat and multifamily construction up 2.3%, significant losses for the month are attributed to falling home improvement outlays.
Spending on private residential construction year-to-date has fallen 7.6%, with a 7.1% drop in single-family expenditures, compared to the first four months of 2018.
Private nonresidential outlays, which factor into the structures component of GDP, dipped 2.9% during April but are up 2.6% year to date (not seasonally adjusted).
Warmer weather has allowed more road projects to get underway. Highway and street spending surged 6.8% in April and, year-to-date, is a whopping 17.4% greater than the same period last year.
Office construction also showed strength in April adding to 9.1% year-to-date growth. But commercial construction turned south with a 3.7% drop in spending from March to April. Total office construction this year is 4.5% below the 2018 comparison.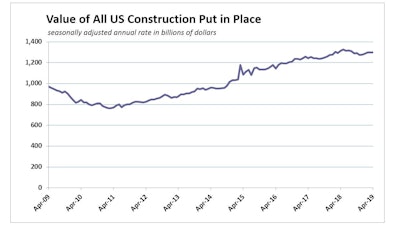 Companies in this article