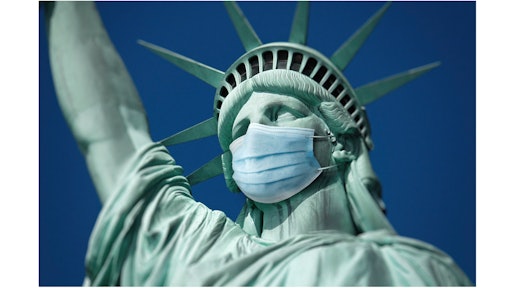 narvikk / iStock / Getty Images Plus
COVID-19 Epicenter, New York, Shuts Down More Contractors 
March 27, 2020
Gov. Andrew Cuomo has halted most New York construction work in response to a blitz of novel coronavirus infections that launched the state to the top of lists of Americans infected and killed.
Initially, all construction in the state was classified as "essential" and exempt from the state's PAUSE order, which mandates all nonessential workers stay home. In guidance updated Friday, the state declares that "all nonessential construction must shut down except emergency construction." Those who violate the new rule could face fines up to $10,000, according to the state.
Some work on infrastructure, hospitals, and affordable housing, along with emergency repairs, will be permitted.
(detail on which construction can continue through New York's construction ban, from NY.curbed.com . . . )
Washington Raises Restrictions to 'Essential' Construction
March 26, 2020
Washington Governor Jay Inslee's office issued new guidance declaring nearly all construction nonessential activity as part of the "Stay Home, Stay Healthy" order. The move requires all nonessential workers stay at home for two weeks to combat the spread of the novel coronavirus.
Construction's only exceptions are work related to essential activities like health care, transportation, energy, defense and critical manufacturing; construction "to further a public purpose related to a public entity," including publicly financed low-income housing; and emergency repairs.
(projects that will continue under Washington's construction ban from SeattleTimes.com . . . )
Vermont Issues 'Clarification' of Allowed Construction
March 26, 2020
Gov. Phil Scott is asking all Vermonters to stay at home until at least April 15 to mitigate the spread of the new coronavirus, and the COVID-19 disease it causes. He issued the order Tuesday evening on his office's website. The state's infection rate has nearly doubled in each of several days through the middle of this week.
The order exempts construction necessary to support the COVID-19 response and maintain critical infrastructure. Richard Wobby, executive vice president of the Vermont Associated General Contractors, in a video posted to AGCVT.org, says that while repairs to damaged critical infrastructure will continue "We cannot start or proceed with projects that are ongoing. We're supposed to be securing those sites; making them safe to survive the next three weeks and then come back to them on April 15."
If project owners deem critical construction work to support trash collection and disposal, recycling operations and maintenance of drinking water and wastewater/drainage infrastructure, that work should continue.
(more on Vermont's construction shut down from BurlingtonFreePress.com . . . )
Oregon Intel Contractor Tests Positive
March 24, 2020
Intel said Tuesday that a contractor working on the multibillion-dollar expansion to its D1X factory in Hillsboro, Ore., has tested positive for the coronavirus.
Gov. Kate Brown ordered Oregonians to "stay home," last Monday, but specifically exempted construction and manufacturing.
Intel kept its factories in China running through the worst of the outbreak there. The company has had cases of COVID-19 among employees in Arizona and California and said the Hillsboro case disclosed Tuesday is the first among its Oregon sites.
Hoffmann Construction, general contractor on Intel's project, said the worker who tested positive worked on the exterior of the building.
(more on worker infection at Intel construction from OregonLive.com . . . )
Important Resources
OSHA COVID-19 Standards and Protections
AFL-CIO COVID-19 Pandemic Resources