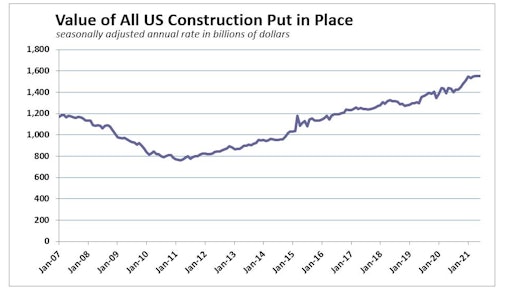 data: US Department of Commerce; graph: ForConstructionPros.com
The total value of construction put in place in the U.S. was essentially flat in June, eking out a 0.1% increase over nonresidential construction's 0.9% slip. Residential construction continues to chug along, with spending rising 1.1% in June finishing the first six months of the year 24.5% higher than the first half of 2020.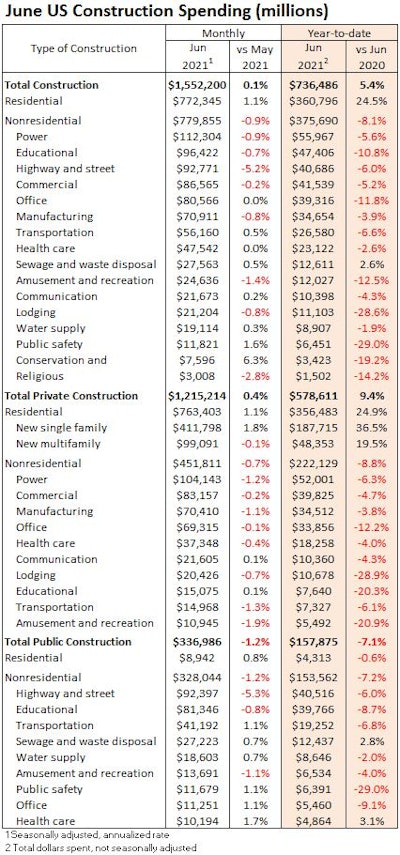 Residential engine is sound
All of residential construction's June spending gain came from single-family homes. Outlays for single-family homes rose 1.8%, and through the first half of the year are soaring 36.5% over the same period last year. Outlays for new private multifamily projects fell 0.1% in June, but remain up 19.5% through the first six months of the year. Spending for private residential renovations and repairs rose 0.4% in June and have risen 12.1% year-over-year, on a year-to-date basis.
"While new home sales have shown signs of weakening, part of the problem has been a lack of homes available for sale. A growing proportion of new home sales have been for homes where construction has not yet started, which means builders have a considerable backlog headed into the second half of the year," says Mark Vitner, senior economist with Wells Fargo Securities. "Supply chain bottlenecks also continue to hang over home builders. While framing lumber prices have come down recently, prices for many other key inputs remain exceptionally high and shortages are still commonplace.
"June's slight drop in spending for new multifamily projects looks to be an aberration. Demand for apartments strengthened during the second quarter and rents have spiked higher and sales of apartment communities have increased in recent weeks."
The nonresidential equation
Nonresidential outlays slid 0.7% in the private sector and 1.2% in the public sector. Spending on nonresidential construction has fallen 8.1% in the first half of 2021. Most of that drop has been in educational facilities (-8.7% and $3.8B), public safety (-29% and $2.6B) and transportation projects (-6.8% and $1.4B).
In, The bulk of the public sector 1.2% June spending drop was in highway and street projects, which fell 5.3%. Spending for educational facilities fell 0.8%, and outlays for public amusement and recreation facilities declined 1.1%.
"The weakness in highway & street and transportation projects highlights the need for additional funding for infrastructure projects," says Vitner. "While a bill may soon work its way through Congress, there is considerable funding already in place. Many state and local governments are sitting on a mountain of cash provided by federal stimulus programs, which could fund outlays for street and sidewalk construction, public safety facilities and education projects later this year.
"There are areas of nonresidential construction that are moving forward, most notably the industrial market which has seen demand surge from the growth in online retailing as well as efforts to build just-in-case inventories."
But nonresidential spending was down in June in eight of 16 nonresidential subcategories. Year-to-date nonres spending was down in 15 of those 16 categories.
"Since achieving an all-time high in January 2020, nonresidential construction spending is down 12%," said Associated Builders and Contractors' Chief Economist Anirban Basu.
"For economists, this presents a bit of a paradox. Many contractors report rising backlog and strong expectations for sales, staffing and profit-margin growth over the balance of the year, according to ABC's Construction Backlog Indicator and Construction Confidence Index. Yet the macroeconomic data continue to show an industry struggling to stabilize from the pandemic-induced recession.
"There is a logical explanation," said Basu. "Despite the lingering pandemic and elevated materials prices, demand for construction services remains high. But this lofty demand is failing to translate into construction spending growth because available capacity to supply services is so constrained, especially by expanding skills shortages. This means the average project is taking longer to complete. It also translates into diminished construction spending on a monthly basis since less services are delivered. Consequently, individual firms generally remain confident about the future given the presence of demand for their services as well as rising backlog, but the macroeconomic outcomes remain uninspiring as quantity supplied struggles to match quantity demanded."