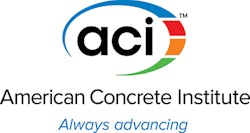 The concrete industry's Strategic Development Council, a Council of the ACI Foundation, announces its new Chair and Board members.

New SDC Chair is Mike Schneider, Sr. Vice President and Chief People Officer at Baker Concrete Construction, Inc. He has been with Baker Concrete in Monroe, Ohio for over 33 years. He started at Baker as a Project Manager in 1978 and helped open Baker's Houston, Texas, office in 1982. During his career, he has been involved in a multitude of projects ranging from high-rise offices to automotive plants to mainline concrete paving.

He has been active in the American Society of Concrete Contractors (ASCC) for the past 15 years and served as President during 2005 and 2006. During 2001 and 2002, he was a member of the Board of Directors for the National Center of Construction Education and Research (NCCER). In addition, he is Co-Chair of a Board appointed Joint ACI/ASCC Task Force, Chairman of the National Steering Committee for the Construction Industry Management Program (CIM), has served as Co-Chair of the Contractor Task Group for the National Ready Mixed Concrete Association's P2P Task Force, and Board Member and Past Chair for the Concrete Promotion Council of Southwest Ohio.

Mr. Schneider was selected as an ACI Fellow in 2006, received the Roger M. Corbetta award in 2011, served on the ACI Board of Direction from 2008 to 2010, and is currently a member of the following ACI committees: Financial Activities Committee, 117 Tolerances Committee, Responsibility in Concrete Construction Committee, Chapters Committee, and Convention Committee. He received his Bachelor's in personnel management from Miami University (Ohio) and a Bachelor's in construction management from the University of Cincinnati.

The four new Board members, who have begun three-year terms, include Kevin Cail, Brian Green, Charles Hanskat, and Claudio Manissero.

Kevin Cail is Director of Sustainability and Innovation for Lafarge North America located in Washington, DC and is responsible for Lafarge North America's sustainability efforts. As Director, his main role is to work on key corporate sustainability initiatives throughout the four Business Units of Lafarge North America, Cement Division. In addition, he is also responsible for the commercial development of various innovation projects and product changes. He also manages and develops policy and direction related to those activities. Mr. Cail serves on the Board of Directors for the Canada Green Building Council (CaGBC) working on issues related to industry and sustainability.

Brian Green, ACI Fellow, is a Research Geologist specializing in grout and concrete materials research in the Concrete and Materials Branch, Geotechnical and Structures Laboratory, U.S. Army Engineer Research and Development Center (ERDC), located in Vicksburg, Miss. Mr. Green serves as chair of the SDC Cracking Accelerated Implementation Team and is the current secretary of ACI Committee 552, Cementitious Grouting; a member of ACI Committees 229 and 239; and an Associate Member of 236, 236-D, and 630. He also serves on the Board of Directors for the ACI Mid-South Chapter.

Charles Hanskat is Managing Principal at Concrete Engineering Group, LLC, a firm he founded in 2008 located in Northbrook, Ill. Mr. Hanskat is a Fellow of ACI and is a founding and current member of ACI Committees 371, 372, 373, and 376. He also currently serves on ACI Technical Committees 301, 334, 376, 350, and 506, as well as several ACI Board committees. He is a Board member of the American Shotcrete Association (ASA) and Chair of the ASA Sustainability Committee.

Claudio E. Manissero is President of Premier Construction Products Group in Huntersville, N.C. and is launching novel technologies to decrease cracking of concrete and increase its durability, and developing new technologies for magnesia-based board and decorative panels. He has participated as an Expert Task Group (ETG) member on Strategic Highway Research Project (SHRP) programs on alkaline silica reaction (ASR) and Electrochemical Chloride Extraction; was a member of the American Association of State and Highway Officials (AASHTO) SHRP Implementation ASR Lead State Team; and has been a speaker at several of the SHRP ASR Showcases. He served on the National Cooperative Highway Research Program (NCHRP) ASR Long-term Pavement Performance (LTPP) ETG, and served on the American Concrete Pavement Association/Portland Cement Association Concrete Durability Task Force.
Companies in this article