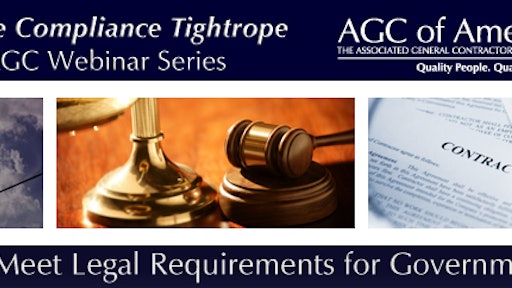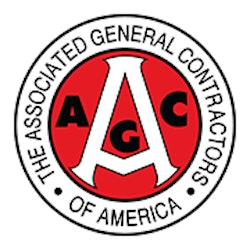 Doing public work for federal, state and local agencies has become riskier and more challenging each year. Small mistakes made while working to meet complex requirements can have enormous consequences. Only contractors working for federal agencies are required by law to implement an ethics and compliance program, but all government contractors are at risk of costly suspension or debarment if violations occur, and all contractors have a reputation to protect.

Associated General Contractors of America's (AGC) eight-part Compliance Webinar Series will provide a practical way to help contractors educate key personnel on the ever-growing risk of liability and help demonstrate your organization's commitment to following the rules of the road. The eight-part series will cover the False Claims Act, the Davis Bacon Act, illegal gratuities and more.
Attend the first webinar in this series free of charge - Legal Compliance Programs: Why You Should Have One, and What it Needs to Include – on Tuesday, June 19, 2012, 2:00 p.m. - 3:30 p.m. EST.
Contractors can register for the full 8-part webinar series or sign up for individual webinars.

All webinars in the series will take place from 2:00 p.m. - 3:30 p.m. ET. AGC will provide a certificate documenting the attendance of each individual who registers for a webinar.

All series registrants will receive an electronic copy of each webinar. Contractors can sign up for the bundle and watch any sessions missed or for review on-demand at any time.
Cost:
$499.00/AGC Member
$549.00/Non-Member
Any individual webinar: $99.00
Full Eight-Part Series:
June 19, 2012: Legal Compliance Programs: Why You Should Have One, and What it Needs to Include

July 19, 2012: Getting Subcontractors on Board: Why and How to Train Your Subcontractors to Meet Flowdown Requirements

August 16, 2012: False Claims: How Federal and State Laws Relate to Requests for Payment and/or Equitable Adjustment

September 13, 2012: Illegal Gratuities, Kickbacks and Bribes: Which Activities Can Inadvertently Fall into These Categories, and Legal Protections for Whistleblowers

October 16, 2012: The DBE Program for Federal-Aid Highway Work: How to Document Good Faith Efforts and Measure the Participation You Agree to Achieve

October 18, 2012: The Socioeconomic Programs for Federal Work: How to Navigate the Set-Aside and Subcontracting Programs Embedded in the Federal Acquisition Regulation

November 13, 2012: Affirmative Action in Employment: How to Implement the Employment Practices and Procedures Required by the Office of Federal Contract Compliance Programs

December 11 & 13, 2012: The Davis-Bacon and Related Acts: How to Comply with Federal Prevailing Wage Laws
Companies in this article