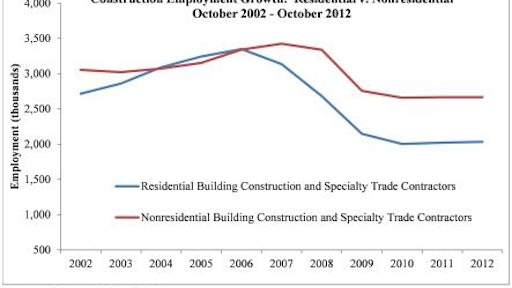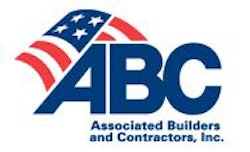 The U.S. construction industry saw a slight increase in the number of jobs last month as the unemployment rate fell to 11.4 percent, down from 11.9 percent in September and 13.7 percent from one year ago, according to the U.S. Labor Department. The industry added 17,000 jobs in October, resulting in five consecutive months of job increases.
The nonresidential building construction sector added 4,600 jobs for the month, but lost 100 jobs from October 2011. The residential building construction sector lost 2,000 jobs for the month and 6,800 jobs, or 1.2 percent, compared to the same time last year.
Nonresidential specialty trade contractors added 10,100 jobs in October and a net 1,000 jobs during the past twelve months. Residential specialty trade contractors gained 6,700 jobs for the month and 19,100 jobs, or 1.3 percent, from one year ago.
The heavy and civil engineering construction sector lost 2,500 jobs for the month, but added 6,700 jobs, or 0.8 percent, from October 2011.
Across all industries, the nation added 171,000 jobs as the private sector expanded by 184,000 jobs and the public sector shrunk by 13,000 jobs. Overall, the national unemployment rate increased to 7.9 percent in October, up from 7.8 percent in September.
Reversals of fortune
"On balance, today's employment report was surprisingly good," said Associated Builders and Contractors (ABC) Chief Economist Anirban Basu. "Construction job growth primarily emerged from nonresidential construction segments—a reversal of the pattern associated with much of the past year.
"Nonresidential specialty trade contractors added more than 10,000 jobs last month, which also represents a reversal of fortune," Basu said. "In contrast, some data sources indicate broader strength in residential construction relative to nonresidential construction, but the homebuilding segment of the economy has lost jobs both on month-over-month and year-over-year basis.
"The ability of several nonresidential construction segments to add jobs recently is also somewhat unexpected given ongoing concerns regarding the fiscal cliff—a series of tax cuts and spending increases that will take effect at the end of the year," said Basu. "Most economists agree that if America takes a deep dive off the fiscal cliff, the nation's economy will be in recession by early next year. That will hardly create an environment for expanding construction activity.
"Still, this momentum may not last," Basu said. "The economy has struggled to expand above two percent this entire year.
"Heavy and civil engineering construction lost 2,500 jobs last month," said Basu. "This segment is often viewed as a leading indicator for the entire nonresidential construction industry, and it may be that the owner/developer community is taking a wait-and-see attitude as we approach next week's elections and the lame duck congressional session to follow.
"All in all, this suggests that the early months of 2013 are likely to be softer from the perspective of nonresidential construction employment growth than the past five months," Basu said. "But, we'll have a better idea about the health of the construction industry after ABC's Construction Backlog Indicator is released later this month."