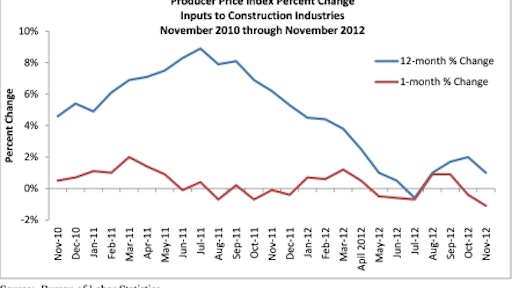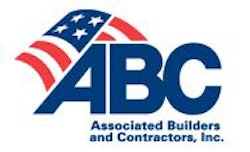 In a sign of a weak global economy, the nation's construction materials prices fell 1.1 percent in November - the largest monthly decrease since February 2009 - according to the producer price index report by the U.S. Department of Labor. However, prices are 1 percent higher than the same time last year.
Decreases
Nonresidential construction materials prices dipped 1.3% for the month but are up 0.6% on a year-over-year basis
Steel mill products decreased 1.3% for the month and are down 9.1% compared to one year ago
Nonferrous wire and cable prices were down 1.2% compared to October and were down 3.8% from the same time last year
Prepared asphalt, tar roofing and siding slipped 0.5% for the month but were 1.4% higher than in November 2011
Concrete products were unchanged for the month and increased 2% since the same time last year
Plumbing fixtures and fittings were unchanged for the month and were 1.6% higher than one year ago
Crude energy materials prices decreased 0.7% in November, driven by a 7.5% drop in crude petroleum prices. Year over year, crude energy materials prices are down 9.5%.
Increases
Softwood lumber prices jumped 5.3% for the month after dipping 2.7% in October. Year over year, softwood lumber prices are up 13.7%
Iron and steel prices increased 1.8% for the month but were down 7.9% during the past 12 months
Fabricated structural metal products inched up 0.2% for the month are up 0.4% year over year
Overall, the nation's wholesale goods prices fell 0.8 percent in November but are 1.4 percent higher than the same time last year.
"One of the advantages of a weak global economy is that demand growth is suppressed, which results in smaller price increases," said Associated Builders and Contractors Chief Economist Anirban Basu. "This past month, prices actually declined, perhaps a reflection of weaker performance in certain Asian economies, as well as ongoing slowing in parts of Latin America and throughout Europe.
"Investors also may be reducing their positions in economically sensitive commodities in response to fears regarding America's fiscal cliff," Basu said. "If America falls off its fiscal cliff, it will slow both the U.S. and global economies, resulting in less demand for steel, petroleum and other inputs.
AGC: Upcoming Materials Price Increases Could Put Contractors at Risk
"Given elevated levels of geopolitical uncertainty, contractors can expect greater volatility in materials prices in 2013 compared to 2012," said Basu. "With construction materials prices up 1 percent in the past year, it is unlikely prices will remain as sustained in 2013 given a host of political and economic considerations. Accordingly, contractors will need to be more careful in their contractual dealings next year over the concern of unexpected price hikes."
View the October producer price index (PPI) report.