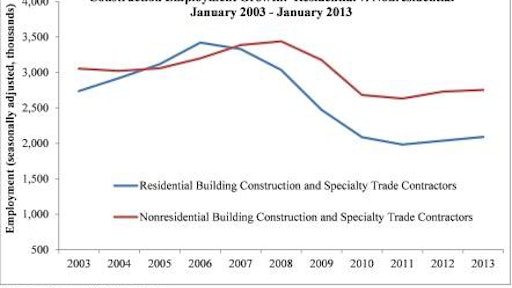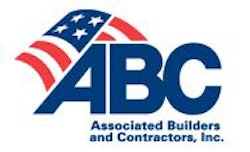 Despite the addition of 28,000 jobs in January, the nation's construction industry unemployment rate shot up to 16.1 percent, according to the February 1 employment report by the U.S. Department of Labor. The January rate marks an increase from 13.5 percent in December 2012 but a decrease from 17.7 percent the same time last year. Year over year, construction employment has risen by 102,000 jobs, or 1.8 percent.
Construction Employment Expands in Two-Thirds of All States
The nonresidential building sector lost 2,700 jobs in January but has added 6,900 jobs, or 1 percent, during the past year. The residential building sector added 700 jobs for the month and has added 2,500 jobs, or 0.4 percent, during the past 12 months.
Nonresidential specialty trade contractors gained 12,400 jobs since December and 15,500, or 0.7 percent, compared to the same time one year ago. Residential specialty trade contractors added 13,800 for the month and 50,700 jobs, or 3.5 percent, for the past 12 months. Employment for heavy and civil engineering construction increased by 4,000 jobs for the month and has added 26,500 jobs, or 3.5 percent, since January 2012.
Overall, the nation added 157,000 jobs as the private sector expanded by 166,000 jobs and the public sector shrunk by 9,000 jobs. According to the Bureau of Labor Statistics' household survey, the national unemployment rate increased to 7.9 percent in January, up from 7.8 percent in December.
Private Sector Demand Helped Boost December Construction Employment
"For a second consecutive month, the nation's construction industry added jobs," said Associated Builders and Contractors Chief Economist Anirban Basu. "However, there are at least two reasons to question whether this improved performance is indicative of a broadening construction industry recovery or an example of the statistics being impacted by temporary phenomena.
US Construction Industry Adds 30,000 Jobs in December
"First, winter months are notoriously seasonal and subject to construction employment fluctuation based on weather patterns as opposed to economic forces," Basu stated. "Second, some of the acceleration in construction hiring is likely due to ongoing Hurricane Sandy rebuilding, which presumably will only create a temporary increase in construction activity.
"In addition, nonresidential building construction actually lost 2,700 jobs in January, reflecting a modest pace of economic expansion," said Basu. "In fact, the most recent gross domestic product data indicates the nation's expansion has become nonexistent, rather than modest.
"While fourth quarter output was impacted by a sharp decline in military outlays and negative adjustments to inventory, the data shows that economic activity is unlikely to accelerate meaningfully during the months ahead," said Basu. "The economy entered 2013 with precious little momentum and now has to adjust to a set of higher tax rates.
"Financial markets generally have shrugged off these factors, yet surveys of business and consumer confidence indicate most Americans remain intensely nervous," Basu said. "Additionally, battles over the debt limit and spending cuts loom in the next few months, which may further strain any economic recovery."
Construction Confidence Declines in Second Half of 2012
View the December employment report.
Companies in this article