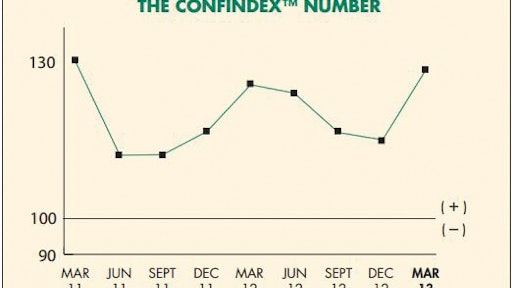 CFOs participating in the Construction Financial Managament Association's most recent Confindex survey confirm that construction's recovery is positioned to accelerate, and could outperform previous expectations. The Overall Confidence Index rose 13.2% to 129, its highest level in two years (March 2011: 131)
Each sub-index that makes up Overall Confidence rose between the final quarter of 2012 and the first quarter of 2013.
The Business Conditions Index surged 19.5% to 147
The Financial Conditions Index increased 8.5% to 115
The Current Confidence Index is up 10% to 121
Perhaps most importantly, the 2013 Outlook Index jumped 17.8%
The single most prevalent concern among commercial-construction CFOs in the first quarter survey is prospective skills shortages, with 48% of survey respondents reporting that they are either very concerned (36%) or highly concerned (12%). It's a poignant change in primary worry, which had been dominated by demand for construction and availability of financing.