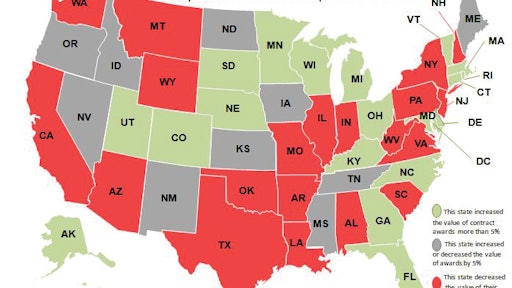 U.S. construction spending is finally turning up. But a wise contractor won't let the relief of long-overdue resuscitation overheat his perspective on what will inevitably be a tepid 2013 recovery.
Forecasts from chief economists in the key construction sectors – the National Association of Home Builders, the American Road and Transportation Builders Association and the Association of General Contractors – paint an encouraging picture of gently rising construction spending in 2013.
Look closely to find where the bright spots and black holes lay.
Housing's resurrection
Single-family starts are 70 percent above their pre-recession trough and hit their highest level in more than four years in September, at an 872,000-unit annual pace. But that pace is only 43 percent of what NAHB Chief Economist David Crowe calls a normal level (he uses the national average for annual housing starts from 2000 to 2003 as a benchmark).
"Housing is coming back," says Crowe. "Not strongly, but I do think we are beginning to see some pretty solid foundations for a continuing slow, but steady recovery in housing."
Crowe's NAHB forecast projects a 19 percent increase in total housing starts for 2013 (to 903,000 units).
Remodeling is already back, at 98 percent of the average annual level of activity it registered early in the millennium.
"And the multifamily residential sector is well on its way," Crowe reports. "More than two-thirds of the way back to normal.
"It's the single-family component – usually the largest sector of the three legs of the housing stool – that's been then weakest. And it's the one that I think is finally beginning to see signs of consistent recovery."
He expects national-average single-family starts to be about 55 percent of the 2000-to-2003 norm by the fourth quarter of 2013.
Primary drags on more-robust housing growth:
Continued price competition from foreclosed properties
New-home appraisals depressed by those distressed sales
Tighter mortgage-lending standards
The toughest housing markets linger in big housing states that saw the worst foreclosure rates at the peak of the recession, like California, Arizona, Florida and Nevada. Big, struggling housing markets continue to weigh heavily on the national housing recovery.
Transportation stalled
"We're hoping to see some growth (in transportation spending) resume, according to our forecast models, possibly in 2014, '15 and '16," says Chief Economist Allison Premo Black, of the American Road & Transportation Builders Association. "That's really going to depend on what's happening in the overall economy."
The MAP21 federal transportation reauthorization only increases transportation infrastructure spending to track inflation. But spending reforms in the legislation require states to obligate the money during each fiscal year, rather than allowing them to bank unspent funds, and that should improve the flow of funds.
In 2013, federal transportation-infrastructure investment is expected to remain static at best. Congress faces a fiscal cliff of expiring tax credits and automatic spending cuts, along with intense pressure to cut the federal budget before reaching the government's borrowing limit.
While state and local tax revenues are recovering their pre-recession strength, state budget shortfalls are unprecedented. Perspective: in the wake of the last recession, the sum of state budget shortfalls in 2004 was about $80 billion. In 2010, that sum was $191 billion, and it was already at $55 billion by mid 2012.
Pavement construction spending is below 1998 levels and Premo Black expects it to stay down through 2012. It's 2013 growth should almost equal inflation at 2.8 percent.
Subway/light rail work is expected to end 2012 up, but decline more than 8 percent in 2013.
Airports, freight rail, and docks, piers and wharves are expected to hold steady in 2012. But spending on airport terminals and runways is forecast to rise 4.5 percent in 2013, freight rail is expected to grow 4.5 percent, and Panama Canal expansion is expected to drive a whopping 23.5 percent increase in spending on U.S. ports and waterways in 2013.
Bridge work has stabilized and is on pace to exceed $29 billion this year, which would be a record. Premo Black says the ARTBA model doesn't predict 2013 growth, but spending on bridges should remain strong.
Outlooks vary significantly by state, though.
From September 2011 to October 2012, 21 states and Washington D.C. increased highway-project awards more than 5 percent compared to the previous 12 months (see the map). But highway spending is down 5 percent or more in 20 other states.
Premo Black points out eight states that have been responsible for nearly half of the bridge market for the past four years:
New York            9.6% -- average $1.7 billion per year
Pennsylvania     7.3% -- average $1.27 billion
California             7% -- average $1.1 billion
Texas                    6% -- average $981.5 million
Florida                  5% -- average $841 million
Illinois                   4.6% -- average $735 million
New Jersey        4.4% -- average $711 million
Washington        5.4% -- average $411 million (but more than $2.1 billion in awards in the past year)
Public-private partnerships (P3) will add significant funding for design/build work in a handful of  states. Premo Black says those most active P3 states currently are Virginia, Texas, Florida, Colorado and Utah.
Total construction growing slow
AGC Chief Economist Ken Simonson expects total construction spending to be up 5 to 9 percent in 2012
"Not great, given that we had a 37 percent drop from peak to trough," he says, "But it's the first increase (in total construction spending) in six years.
"I think that we are going to be on a very gradual upward trend," Simonson says of overall construction spending in 2013.
He expects the multifamily housing boom to continue through 2013 (vacancy rates are at 10-year lows; rents are up), as well as power and energy construction courtesy of shale oil and natural gas development. U.S. shale energy production grew 67 percent from 2007 to 2010, and work continues on production that won't be complete for years.
Simonson credits Panama Canal expansion with driving new port dredging, piers, cranes, land access, warehousing and transportation facilities.
"But I call this a fragile and fragmentary recovery because it definitely has not lifted all construction boats."
Public construction has been tapering off since late 2010, and very recently became the smallest contributor to total construction spending. It is now declining at a 3 percent rate, offsetting some private residential growth.
Simonson expects a slow return to high-single-digit growth through 2017 as the U.S. economy and population continues to grow.
Risks to 2013 outlook
Sudden jump in taxes (expiration or Bush tax cuts) would chill home and private nonresidential investment
Federal spending cuts (sequestration) would hit public construction hard
Deeper slump in Europe, slowdown in China would hurt exporters, ports, possibly banks
War in Iran, North Africa, Pacific Rim would send oil higher
With 2 percent growth in third-quarter 2012 U.S. gross domestic product coming as a pleasant surprise, nobody should expect a return to halcyon days any time soon. The historical trend in GDP growth is 3 percent, and smart people in the investment world are expecting this economy's new normal to be well below that.
Times are good. You just need to pay very close attention, and place your bids with extra care to feel the growth.