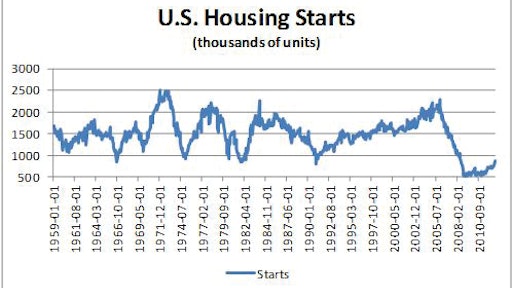 The 2013 construction equipment market will benefit from improvements in housing, continued high levels of demand from the energy sector and improving non-residential construction investment by manufacturers.
Overall I expect 2013 growth of 5.4 percent compared with 2012. I expect the slowdown that began in the second half of 2012 to extend into the first half of 2013 and most of the 2013 growth to occur in the second half.
I believe rental companies will continue their aggressive re-fleeting in 2013, however, most of those purchases will be for aerial platforms. The first half of 2013 is likely to be down 5 percent to 7 percent compared with the first half of 2012 because of difficult comparisons.  The first half of 2012 grew at a higher rate than the second half.  Second half 2013 comparisons with 2012 will be easier, up as much as 10 percent to 20 percent.
GDP clawing up to 2 percent
Every forecast is based on assumptions.  A major one for 2013: Congress and the President's compromise to avert sequestration undoubtedly resulted in higher taxes. I've assumed, perhaps naively, that nearly everyone will be equally affected by those higher taxes. I have also assumed that the devastation caused by Hurricane Sandy will benefit the equipment business, but I do not believe it will have a material impact on business in 2013. Furthermore, I believe that rental companies will benefit the most from the hurricane.
After a spike in Gross Domestic Product (GDP) growth of more than 4 percent in the fourth quarter of 2011, gains have been tepid, bumping along for most of 2012 at under 2 percent per quarter (Gross Domestic Product is a measure of the value of all goods and services produced by the economy). I estimate GDP will grow at about 1.5 percent in the fourth quarter of 2012 and at the same rate in the first quarter of 2013.  By the end of the second quarter next year I believe we will see growth exceed 2 percent.  By the end of 2013 GDP growth will approach 2.3 percent. The long term trend is more than 3 percent.
I believe demand for construction equipment will be driven by a housing-market recovery. Other types of construction are expected to grow also, but the most dramatic change will be for housing (see the table showing my estimate of the change in the value of construction put-in-place for residential and non-residential construction).  Put-in-place is a measure made by the U.S. Government of the dollar amount of actual construction that takes place. 
It's possible we will see a resurgence of building in the manufacturing sector. Whether that occurs depends on the enthusiasm businesses have for programs proposed and enacted by the Obama administration. 
Spending on transportation projects is expected to grow as a result of the recently enacted Federal Highway program, MAP-21.  Federal funding for highways at approximately $40 billion per year for 2013 and 2014 is considered to be inadequate to replace dilapidated roads and bridges.  However, it is approximately $3 billion per year more than the previous program. 
The highway bill provides two years of funding which gives state governments a longer planning horizon for large projects.  The previous series of two month extensions curtailed planning by the states because of uncertain future funding.  Unfortunately, many states now have much lower tax revenues and can't afford to fund new highway projects.
Housing to hit 1 million
My view on housing is fairly positive – I believe it will provide the main strength for the machinery marketplace. The housing market is still at a historic low point, but the good news is housing starts are growing and unlikely to go lower. Recent percentage gains have been dramatic – up more than 30 percent year-over-year.
Housing grew very slowly throughout 2012. Starts bumped along the bottom of the accompanying graph at an annual rate of between 400,000 and 500,000 units starting in mid-2008 through 2010. It was the lowest level recorded. The decline from early 2007 to mid-2008 was unprecedented. The market is slowly clawing its way back to an annualized rate of one million units.
In my view we will have reached a real milestone when starts exceed a million units. I think it likely we will reach that threshold in 2013.
Housing permits, which are a leading indicator of housing starts have been positive since the beginning of 2012 which leads me to believe housing starts will improve throughout 2013.
The rate of home foreclosures has declined for five months in a row. New family formations are also improving after a long dry spell.
Home affordability has risen dramatically. All we need now is for banks to step up and loan money for mortgages, which will be a key to the housing recovery. Hopefully, Obama will help that with new home-affordability legislation.
What does the Obama re-election mean for housing? I think we can assume the president wants the economy to recover so that he leaves a positive legacy for his second term. It's likely that the policies started by Obama in his first term will continue including:
The refinancing push
New mortgage regulations to protect existing homeowners
The mortgage interest deduction is probably secure, so there won't be a disruption of the real estate market
Reduction of mortgage principal as a means of adjusting mortgage payment is probably not a possibility
The Federal Reserve has added unemployment to its list of concerns. With unemployment among construction workers – 17.6 percent –more than twice the national total, the Fed is trying to stimulate housing to reduce unemployment. It will purchase mortgage-backed securities at a rate of $40 billion per month and put them on its balance sheet. Shifting assets to the Fed's balance sheet is called "quantitative easing."  This is the third such effort and is referred to in the financial press as QE3.
Energy keeps powering growth
Energy-market strength made 2012 a particularly good year for many equipment manufacturers, especially those that build drill rigs, pumps, compressors, gensets and equipment that supports the shale-fracking process. Dealers in places that had been considered backwater markets such as Western New York, Western Pennsylvania and North and South Dakota had banner years. Development of natural gas in those regions will prove to be revolutionary for the U.S., putting us on track to become energy independent within 10 years.
The bad news is that coal and natural gas prices are locked in what appears to be a race-for-the-bottom death struggle, pulling each other down as electric power plants switch from coal to gas. Historically, utility managers always considered declining natural-gas prices to be temporary, due perhaps to mild temperatures or other factors. Power-generation companies were reluctant to switch energy sources because they feared that as soon as they shifted from coal to natural gas prices would rise, particularly with very cold winter weather. But now abundant cheap supplies and environmental regulations favor gas long term. Analysts at the Energy Information Agency (EIA) believe it is likely that coal production will be under pressure for four years after which it will begin growing again.
Uncertainty in the coal market and a dip in mineral commodity prices caused equipment manufacturers to scale back production. For example, both Caterpillar and Liebherr have laid off people at their mining-truck manufacturing plants. Until a few months ago everyone was sure that metal commodity markets would remain strong.  Since then iron and copper prices have pulled back to the point where some metal producers have reduced the size of development projects or cancelled them altogether.
Regulations' impact
Emission regulations had an impact on new equipment purchases in 2012. The U.S. EPA dramatically lowered allowable levels of toxic emissions from diesel engines with Tier 4 Interim regulations applied to high-volume engine sizes on January 1, 2012. Equipment manufacturers have struggled to conform.  Some manufacturers have been able to continue producing and selling machines powered by Tier 3 engines because of accumulated EPA credits.
But most machines sold since the first of 2012 have the Tier 4 Interim engines and are more expensive to purchase and operate. Anticipated higher costs pulled some equipment purchases into 2011, thereby preempting some 2012 sales volume. And a fairly high percentage of equipment users rented equipment in 2012 not only because of economic uncertainty, but also because to avoid purchasing Tier 4 Interim machines.
The 2012 equipment market benefited greatly from re-fleeting by rental companies and dealer rental fleets. Overall equipment markets grew 15.6 percent, with most of that growth in the first half. I estimate rental companies consumed approximately 22 percent of new machinery sold and that dealers that operate rental fleets consumed 23 percent of new equipment sold. Third party rental companies consumed another 7 percent. That makes total equipment consumed for rental fleets of 52 percent. United Rentals alone purchase more than $1.3 billion of new equipment.
It appears that most rental companies shifted their fleet profile toward earthmoving equipment. Fleet spending levels of rental companies for products such as skid steer loaders, rubber tracked loaders, compact excavators and small wheel loaders were up 10 to 14 percent year-over-year from 2011 to 2012.The rough terrain forklift market was up nearly 49 percent. This category includes telescopic boom forklifts.
I also believe the crane market, primarily hydraulic cranes, recovered in 2012 compared with 2011 benefiting from high levels of activity in the energy markets especially on the Gulf Coast. I estimate it grew 26.7 percent driven by aggressive buying by crane rental companies. The articulated truck market started a comeback in early 2012 with a nice double-digit growth rate but came to a virtual halt in the second half and finished the year up 11.1 percent. Most articulated truck producers stopped building their trucks in the third quarter and will probably keep their plants idle through the fourth quarter.