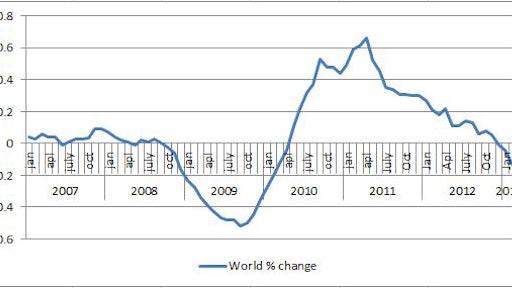 Caterpillar and Komatsu worldwide dealer sales shrank for the third month in a row in February.
Caterpillar makes a nifty report available to the public that details the change in dealer retail sales based on a monthly survey. Results are averaged over three months to portray a trend.
The latest report dipped below the zero line for the third month in a row. Sales were down in the company's North America (-11% in January and -12% in January) and Asia/Pacific regions (-12% in January and -26% in February) for three months in a row as well. The company's Europe, Africa, Middle East territory had been bumping along at zero growth since June of last year, but dipped into negative territory in February (-9%).
Caterpillar Reports Record Sales and Revenues and Profit for 2012
In our annual forecast we predicted that North American construction-equipment sales would be down for much of the first half of 2012 because the first half of 2011 was so strong. This data confirms that forecast.
We continue to expect the second half to turn strongly positive.  Let's hope we're right.
Separately, Komatsu reported its total nine-month sales through September 2012 were down 4.7%. The company's experience is very similar to Caterpillar's, with the big difference being a 17.4% increase in North American sales.
Komatsu North American Sales to Rental Grow 73%
Komatsu's results by region of the world confirm the trends reported by Caterpillar and others that the China market, especially for hydraulic excavators is still declining, albeit at a slower rate, and that in the past few months Europe has continued its downward spiral.
Companies in this article