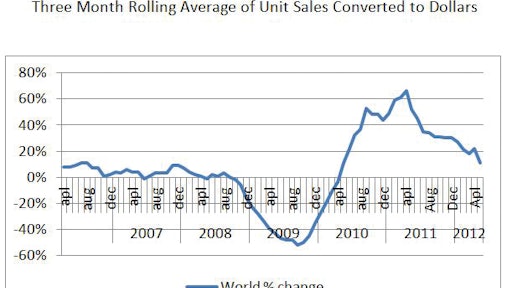 What exactly is going on in the world equipment markets?
China was the engine of growth a year ago, with stocks of Japanese equipment manufacturers rising and falling on daily rumors about how many excavators they sold the month before. The Chinese government promised new stimulus to keep domestic demand high.
That idea has been turned on its ear in 2012. Residential property prices have tumbled with government actions to reduce real-estate speculation and oversupply of homes (mostly condominiums).
Caterpillar dealer statistics suggest the U.S. market is still growing, albeit more slowly than a year ago. The market is up more than 30% in both April and May compared with the same period last year.
Global Cat dealer sales followed a path similar to North America: crossing into positive territory in mid-2010 and exhibiting healthy growth since then. But monthly gains have dropped to low double digits – up 11% in May but much lower than the 20% and 30% growth rates reported last year. Caterpillar's May Asia/Pacific region growth was up just 5% compared with last year.
The low worldwide growth rate and weak China-region growth have been worrying Wall Street. Caterpillar's share price was more than $115 in January and recently has been trading at about $85 per share, a decline of 26% in six months.
Komatsu posted on its website a very interesting table that details retail demand by the company's regions for their seven main product categories which exclude mini-equipment: hydraulic excavators (crawler & wheel mounted), wheel loaders, dump trucks (rigid & articulated), and motor graders. We believe this is the first time they have ever provided investors with this much detail about their markets. We are reasonably certain the data is monthly percent changes but do not know if the percent changes are for units or dollars.  Nevertheless, the data provides an estimate over time by region for the seven product categories. 
It is interesting to note the strength of the company's markets overall, although Komatsu did not provide a total worldwide calculation. It's also interesting to note the slowly deteriorating situation in Europe with some months showing single-digit growth but negative numbers for the first four months of 2012.
Komatsu also broke out separately its hydraulic excavator business in China. It's no wonder that in early 2011 investors started to be concerned about Komatsu's exposure to Chinese demand. Markets for Komatsu's seven product categories, and hydraulic excavators in particular, have dropped precipitously since April 2011. Four categories of products turned negative in April 2011 and have continued to deteriorate for the first four months of 2012.
Sany just postponed its planned Hong Kong listing because of the weak market. The company was trying to launch its first IPO in early 2012. A recent filing was for the sale of the equivalent of $2 billion in exchange for 10% of its total ownership. The $2 billion is 40% below the $3.3 billion the company planned to raise. In the first quarter 2012, the company pumped up its domestic Chinese business by renting and selling machines to customers for little or no money down. By the second quarter the company was unable to convert rentals into permanent sales which forced retroactive adjustments to first-quarter sales.
Zoomlion reported impressive growth in 2011 with revenues reaching 46.3 billion yuan (US$7.3 billion) and a profit surge of 73% to 8 billion yuan (US$1.3 billion). Zoomlion's recent share price declined on investors' concerns about the company's plan to raise debt in the Hong Kong market of 140 billion yuan (US$22.2 billion). The company plans to use the funds for cash flow loans to customers, mortgage financing, equipment financing and leasing, and other services like guarantees and endorsements. Investor concern deepened with news that a securities analyst from Hong Kong found about half of the concrete pumps the company sold in the first quarter of 2012 lying idle in eastern Jiangsu province. There has also been a rumor, which Zoomlion strongly denied, that the company was considering making a bid for CNH.
Many investors are concerned about whether Zoomlion will be able to collect all of its receivables after selling its construction equipment while also sweetening deals by allowing buyers to postpone the first payment. Property development and construction industries in China are facing increasing business difficulties under hard-hitting measures the government is using to crack down on real estate speculation. Many large-scale infrastructure projects have been suspended due to government policy adjustments as well.
Plans by Sany and Zoomlion to boost sales resemble programs that many publicly owned U.S. manufacturers used in the 1960s and 1970s to improve sales reports and share price. It was easy to boost sales and revenues if you count shipments as sales and book the profits as well. Tenneco Corporation, which owned J.I. Case in that time frame, was notorious for pumping up sales at the end of quarter and year end. Security-and-Exchange-Commission regulations and active shareholder groups put an end to the practices here.
China, which represented 50% of the global market for construction machinery in 2011, may not be able to hold up world machinery markets in 2012. With domestic demand soft, inventory could begin to show up in other markets. Latin America will likely see a surge of Chinese-built machines. Interestingly, during the M&T show in Sao Paulo, Brazil, in June, there was a strong rumor that Caterpillar was shipping 2,000 of its Chinese-built excavators to Latin America. Most Latin American countries require emission controls equivalent to the U.S. EPA's Tier 2 and Tier 3. Caterpillar's Chinese plants are turning out machines equipped to satisfy Tier 2 and Tier 3. There is little threat, however, that we'll see a flood of Chinese machines in North America or Europe because of the markets' stricter emission regulations.
Equipment demand in the euro-zone is looking increasingly fragile as countries there sort out banking problems. Even the German economy, which has been a source of strength during the past year, started to wobble a little at mid-year.
That leaves the U.S., Canada and Latin America to drive growth for the balance of 2012. U.S. gross domestic product (GDP) has been limping along at just under 2% in both the first and second quarters. Housing starts have finally started to turn around and the U.S. Congress managed to pass a highway bill that should provide a flow of large road projects over the next couple of years. Canada's economy is very robust driven by its resource industries. Latin America is strong also driven by mineral and oil industry demand.
Overall, our outlook for the U.S. equipment market is unchanged from our prediction earlier this year. We believe retail equipment sales will grow at slightly less than 10% in 2012 compared with 2011.