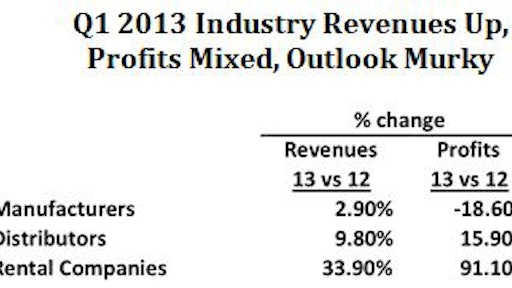 We summarized manufacturer, distributor and rental-company results for the first quarter of 2013 in the accompanying simplified table to highlight the disparity between segments of the construction equipment industry.
Manufacturers reported total topline revenues were up 2.7 percent despite negative first-quarter results from most of them. The negative results were offset by large revenue gains from Deere, Komatsu North America, Manitex and Terex. Manufacturer profits, however, were down 19.3 percent, mostly because of the first-quarter 44.5-percent decline at Caterpillar.
Publicly traded distributors, all but two of which are located in Canada, reported revenue growth of 9.8 percent and an overall profit increase of 15.9 percent. There were large revenue percentage gains at U.S.-based Titan and Canada-based Cervus. Interestingly, both are consolidators of agricultural and construction equipment distributors, some of which are in overseas markets.
Rental companies win
The real winners during the first period were rental companies that collectively reported topline growth of 33.9 percent and a huge 91.1 percent increase in profits, due largely to the gain at United Rentals. United reported consolidated results for the first time since its merger last year with RSC.
All rental companies reported they were able to increase their fleet dollar utilization rates, increase their rental rates and reduce their capital expenditures compared with last year's torrid acquisition pace. They were, and still are, positioned well to benefit from equipment-owner uncertainty that is causing a strong shift toward rentals from outright sales of machines.
Doug Oberhelman, chairman and CEO of Caterpillar, told the trade press last month during the Bauma show in Munich, Germany, that unit sales to the rental channel are now 35 percent of total equipment sales. He went on to say he expects that ratio to increase to 50 percent within three years. 
Since Caterpillar is so big in the rental business (their dealers operate more rental outlets than any of the national rental companies), we assume the company has studied this issue and is making plans with the assumption that half the units sold will be going into the rental channel. That number is staggering. Last year Caterpillar sold slightly more than $19 billion in construction-related machines. Thirty-five percent of that is $6.6 billion. If the ratio had been the projected 50 percent, there would have been nearly $10 billion going into the rental channel. That means that Caterpillar dealers would have added $3.4 billion of rental equipment to their fleets. In its 2012 annual report Caterpillar reported that the net worth of their dealers, worldwide, was approximately $21 billion. We wonder if when they put the additional investment in rental equipment on their balance sheet it will financially strain some of their dealers, especially the small ones. It also begs the question of how much financial stress dealers for other manufacturers will be able to handle in the coming few years.
Most public companies have reported their results for the first part of 2013. For our reader convenience we tabulated the equipment manufacturers, dealers and rental companies in the attached document. We've taken some liberties displaying the data. For example, all the revenue and profit amounts are in U.S. dollars or Canadian dollars. Currencies other than those two were converted to U.S. dollars. Profits for equipment manufacturers that are a division of a larger group, such as Volvo or Hertz, are not reported by the parent companies and therefore the spaces were left blank.
Forecast for 2013
It is apparent now that the construction-equipment industry will be weak overall in the first half of 2013 – perhaps down five to ten percent. The market is difficult to forecast with any degree of accuracy.
We forecast in December that the 2013 annual market would gain five percent. For that to happen, second-half revenues will have to rise 25 to 30 percent. A second half gain of that magnitude is possible if the economy continues to recover, especially the housing market. So far, we are sticking with our earlier forecast that the 2013 construction equipment market will be up about five percent.
The various sectors of the construction economy presented a mixed bag of performance in the first quarter of 2013. The consensus among Bernard Markstein, chief economist with Reed Construction Data; Kermit Baker, chief economist with the American Institute of Architects; and Ken Simonson, chief economist with the Associated General Contractors, is that the industry continues to grow at about the same pace as in 2012. They expressed those views during a Reed Construction Data Webinar.
Our channel checks indicate that on a national basis, retail sales of most types of construction machinery for the first calendar quarter were down about 5 percent as we expected. However, April retail sales were strong which pushed up results slightly for the first four months compared with the first four months of 2012.
Results vary considerably by market segment. The private contractor market was up 5 percent. The governmental/municipal market is down more than 50 percent. Mining-related sales were down at least 25 percent; even more in some coal regions. Sales of construction machines to agricultural, forestry and pipeline users were very active. Construction around the Gulf Coast was extremely active as terminals used to import and store Liquid Natural Gas (LNG) were being converted to export U.S. gas produced from shale deposits. The U.S. is expected to become a net exporter of energy by 2017.