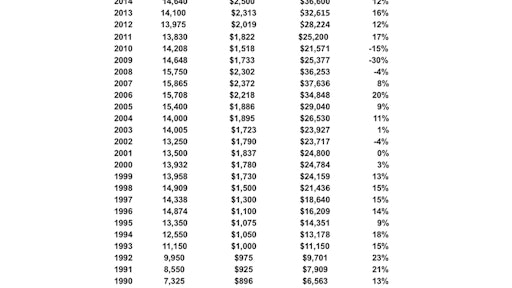 With half a year under our belts it appears the 2013 construction equipment rental market will reach the $32-billion mark I predicted last year at this time, up 16% compared with 2012. Furthermore, all the signs point to 2014 being another growth year for the equipment rental market. I believe the market will grow another 12% next and reach $36.6 billion, making 2014 the fourth year of double-digit growth.
See Figure 1
Topping the list of reasons 2013 has been so good is the economic uncertainty that caused equipment users to rent equipment rather than buy it. I also believe users' concern and confusion about the new Tier 4 interim products that were introduced to the market starting in early 2012 contributed to the growth. Many of the national rental companies stocked up on as many Tier 3 products they could find - including used machines - to put off the inevitable day when they would have to buy Tier 4 units for their fleets. All of these reasons have contributed to more and more new equipment going into the rental fleets of both the national rental companies and authorized distributors for the equipment manufacturers who have amassed huge rental fleets.
The 2013 growth occurred despite the fact that housing starts are still in the doldrums, public construction including road building has been dampened by the federal government's budget sequestration problems, and non-residential construction (a traditional driver of equipment rentals) only improved moderately.
Year-to-date performance of the publicly owned rental companies was great through the second quarter of 2013. That group reported second-quarter revenues up 19% and were up more than 30% for the first six months.
See Figure 2
In contrast, equipment manufacturers had a much different experience. As a group they suffered declining revenues and profits, especially for those primarily exposed to the agricultural equipment market. Equipment distributors, as a group, also suffered declining sales and revenues.
See Figure 3
Rental company performance has almost reached the level we saw just before the 2009 slow down. EBITDA margins for HERC and United Rentals are well into the 40% range. Purchases of rental equipment are at an all-time high.
See Figure 4
Fleet time utilization for most companies is well into the 60% range for most of the companies, a level that normally results in rental companies losing rental opportunities. This explains the high capital expenditures reported.
See Figure 5
I believe construction employment is an important leading indicator for the equipment rental market. When I plot construction employment against my rental market estimates, it's clear that employment in most years has been a leading indicator and in some years a coincident indicator. The strong link with employment is illustrated by the following graph of rental revenues per construction employee.
See Figure 6
Non-residential construction traditionally has been important to rental companies. Most forecasters are predicting non-residential construction will increase by approximately 11% in 2014 compared with 2013.
See Figure 7
Housing starts have never been a good predictor of rental activity. In 2014, however, starts are predicted to increase by as much as 15%. The gain is coming off a very low base, but it's progress nonetheless and should benefit the rental industry as housing contractors come back into the market.
See Figure 8
Overall, I'm optimistic about the equipment rental market, and believe 2014 will be the fourth year of double-digit gains.