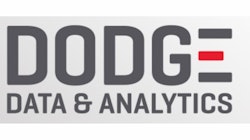 Nonresidential building in December slipped 7 percent to $168.6 billion (annual rate), pulling back for the second month in a row after its elevated October pace. Nonresidential building's fourth-quarter average, however, was 17 percent above the first quarter, according to McGraw Hill Construction.
Total Construction Starts in December Improve 5% on Non-Building Strength
Several commercial categories in December paused from the improved activity registered earlier in the fall.
New office construction dropped 44 percent from November, which had been lifted by the start of such projects as the $336 million Transbay office tower in San Francisco, CA. In contrast, the largest office projects entered as December starts were an $80 million office complex in Cary, NC, and a $73 million data center in West Des Moines, IA.
Similar December declines were registered by hotels, down 42 percent; and warehouses, down 46 percent; although the latest month did include the start of an $88 million Amazon distribution center in Windsor, CT. Store construction, which was the one commercial category that did not post a November gain, managed to increase 6 percent in December. The December pause for nonresidential building was cushioned by a sharp 110 percent jump for manufacturing buildings, which reflected the start of two massive chemical plants in Louisiana, each valued at $500 million.
Institutional building categories in December were mixed. Educational facilities grew 5 percent, helped by the start of a $213 medical research building in Boston, MA, and a $151 million college science building in Chicago, IL. Healthcare facilities in December jumped 30 percent from the prior month's subdued amount, and featured groundbreaking for an $80 million hospital in Virginia and a $70 million cancer center in Wisconsin. Smaller institutional categories generally weakened in December, with public buildings (courthouses and detention facilities) down 32 percent; churches, down 44 percent; and amusement-related work, down 46 percent (compared to the previous month which included the $763 million Vikings Multipurpose Stadium in Minneapolis, MN). The transportation terminal category retreated a slight 1 percent in December, and included the start of a $230 million terminal renovation project at Los Angeles International Airport.
For 2013 as a whole, nonresidential building increased 7 percent to $168.6 billion, shifting to an upward direction after the 5 percent decline reported for 2012. Commercial categories overall advanced 16 percent, faster than the 13 percent gain witnessed in 2012. The strongest gain by commercial category was registered by hotels, up 28 percent; followed by warehouses, up 27 percent; office buildings, up 17 percent; and stores, up 1 percent. The small 2013 increase for stores was limited by the comparison to 2012 that included the $400 million renovation to Macy's flagship department store in New York, NY. The manufacturing building category in 2013 surged 36 percent, helped by the two large chemical plants in Louisiana reported as December starts as well as by such projects as a $1.7 billion fertilizer plant in Iowa, a $1.7 billion natural gas processing plant in West Virginia, and a $1.5 billion industrial gas products plant in Louisiana.
The institutional building group during 2013 decreased 3 percent, less severe than declines of 9 percent in 2012 and 11 percent in 2011. The two largest institutional categories – educational buildings and healthcare facilities – were down 1 percent and 6 percent, respectively. The smaller institutional categories showed this pattern for 2013 – amusement-related work, up 25 percent; transportation terminals, down 2 percent; churches down 11 percent; and public buildings, down 27 percent.