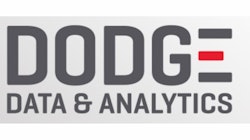 New construction starts in December 2013 grew 5 percent to a seasonally adjusted annual rate of $554.5 billion, according to McGraw Hill Construction. Although both nonresidential building and housing settled back during the final month of 2013, the non-building construction sector (public works and electric utilities) finished the year on a strong note.
For 2013 as a whole, total construction starts advanced 6 percent to $516.8 billion. This follows the 10 percent gain reported for 2012 (which drew support from a record amount of new electric utility starts that year) and modest 2 percent gains in both 2010 and 2011. If the volatile electric utility category is excluded, total construction starts in 2013 would be up 14 percent, following a 9 percent gain in 2012 and essentially flat activity during 2010 and 2011.
The December statistics produced a reading of 117 for the Dodge Index (2000=100), compared to 111 in November. This marked the third highest month for the Dodge Index during 2013, after September's 118 and October's 125. During the first eight months of the year, the Dodge Index had hovered within the fairly narrow range of 100 to 108. Several very large projects helped strengthen the index during the year's final four months. Large December project starts included the $1.5 billion Goethals Bridge replacement project in New York and New Jersey, two large natural gas-fired power plants, and two large manufacturing plants. For all of 2013, the Dodge Index averaged 109, up from 103 in 2012.
"The construction industry in 2013 made progress towards establishing a more broad-based recovery, after several years in which the upturn was more limited in scope," stated Robert A. Murray, chief economist for McGraw Hill Construction. "Housing continued to lead the way, strengthening throughout much of 2013, and it was joined by a faster pace for commercial building, albeit from low levels. The institutional building sector registered a considerably smaller decline than in prior years, as its lengthy downturn appears to be ending. The public works sector in 2013 showed surprising strength, helped by the start of several major projects even amidst restrained government spending. Running counter in 2013 was a steep drop for new electric utility starts, after the robust amount reported in 2012.
"For 2014, the prospects look good for total construction," Murray said, "With growth anticipated for housing and commercial building, while the institutional building sector at least stabilizes."
December Nonresidential Construction Starts Slip 7%
December Residential Construction Starts Drop 6%
December Non-Building Construction Soared 40%
The 6 percent gain for total construction starts at the national level in 2013 was the result of gains in four of the five major regions. Showing the strongest growth was:
Northeast: +17 percent
Midwest: +9 percent
West: +8 percent
South Central: +3 percent
The South Atlantic was the one major region to experience a decline in 2013, dropping 3 percent. The South Atlantic's shortfall reflected the comparison to 2012 that included the start of two massive nuclear facilities, located in Georgia and South Carolina. If electric utilities are excluded from the construction start statistics in the South Atlantic, then total construction for that region in 2013 would be up 19 percent.