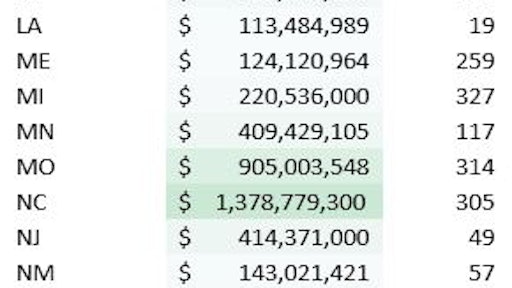 Reed Construction Data announces the release of comprehensive data on thousands of Department of Transportation (DOT) infrastructure projects across the country. With DOT projects representing nearly 50 percent of civil planning spending, this data offers enhanced visibility into a large sector of infrastructure construction, from roads and bridges to excavating and grading -- with a view up to a year prior to bidding.
Reed's new data includes information on an estimated 9,000 DOT projects across all 50 states, with each project valued at more than $100,000. Reed will continue adding new DOT projects as the information becomes available.
"It creates a unique opportunity for companies to see what states are devoting the most funds to infrastructure projects like highway repairs or bridge renovations," said David Ward, chief marketing officer, Reed Construction Data.
The data is available through Intelligent Leads on Reed's new Insight platform, as well as the Reed Connect and SmartProject News solutions. Reed Construction Data clients will be able to access and analyze the DOT's upcoming infrastructure projects up to a full year in advance.