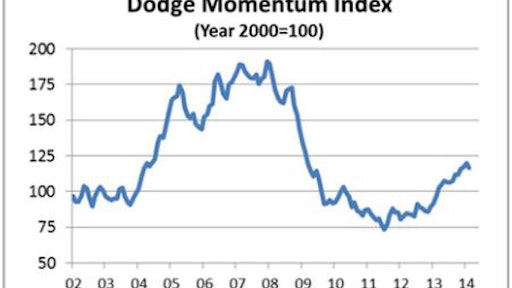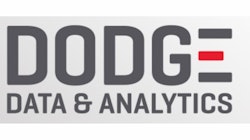 The Dodge Momentum Index slipped 2.6% in February compared to the previous month, according to McGraw Hill Construction. February's decline brought the Momentum Index to 116.5 (2000 = 100), down from January's revised 119.7 but still nearly 20% above the year-earlier (February 2013) reading of 97.4. 
The Momentum Index is a monthly measure of the first (or initial) report for nonresidential building projects in planning, which have been shown to lead construction spending for nonresidential buildings by a full year.
The latest month's retreat is expected to be a brief pause in a broader upward trend. Weak employment growth in December and January raised concern that the U.S. economic expansion was losing momentum, dampening the planning environment for commercial and institutional buildings. The moderate improvement in the February jobs report should help alleviate some of that concern going forward..
The February Momentum Index saw contraction in both its main components. New plans for commercial buildings, usually the more cyclically sensitive sector, dropped 1.7% while institutional building fell back by 3.7%.
On the commercial side, declines were reported across all of the major building types. Even so, there were a number of new commercial projects that continued to make their way into the planning pipeline. February's projects included the $160 million Three Alliance Office Building in Atlanta, GA, a $130 million expansion to the Burns & McDonnell Headquarters in Kansas City, MO, and an $80 million distribution center for ConAgra Foods in Frankfurt, IN.
The institutional component, meanwhile, was weighed down by a large downturn in education building plans. The education decline, however, was partially offset by an increase for new healthcare projects, including the $50 million Presbyterian Rust Cancer Center in Rio Rancho, NM, and the $50 million Jewish Home of Rochester in Rochester, NY.