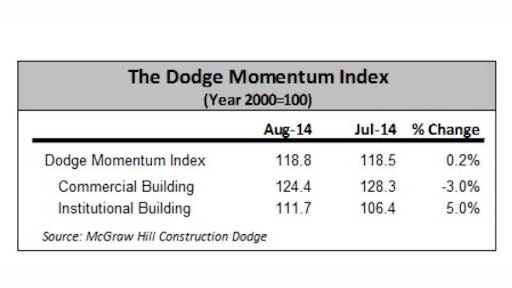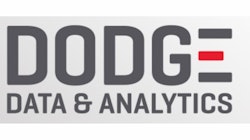 After a 5.7% decline in July, the Dodge Momentum Index inched up 0.2% in August to 118.8 (2000=100). The Index is now 13.9% higher than one year ago, and continues to point to recovery in the sector.
The Momentum Index is McGraw Hill Construction's monthly measure of the first (or initial) report for nonresidential building projects in planning, which have been shown to lead construction spending for nonresidential buildings by a full year.
Institutional building plans rose 5.0% in August, while a 3.0% drop in commercial plans restrained Index growth.
Despite the drop in commercial building plans in August, five notable commercial projects valued at $100 million or more entered planning. These include the $200 million DaniaLive Marketplace in Dania Beach, Fla., a $184 million office complex in New York, N.Y., the $175 million North First Office complex in San Jose, Calif., the $110 million Champions Petfood warehouse in Auburn, Kent., and a $100 million mixed use development in College Station, Texas.