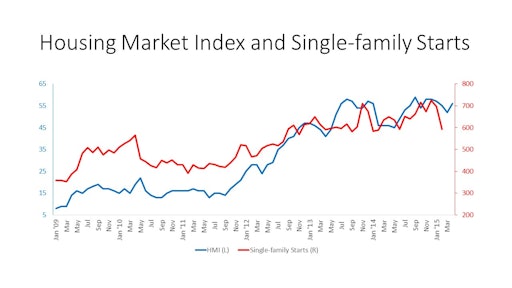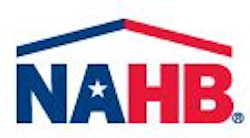 Builder confidence in the newly built, single-family housing market is at its highest level for 2015 with a four point rise in April. Builder confidence is now at a level of 56 on the National Association of Home Builders/Wells Fargo Housing Market Index (HMI) indicating that builders are optimistic the housing market will continue to strengthen throughout 2015.
"As the spring buying season gets underway, home builders are confident that current low interest rates and continued job growth will draw consumers to the market," said NAHB Chairman Tom Woods, a home builder from Blue Springs, Mo.  

All three HMI components registered gains in April. Current sales index rose three points to 61 matching the February level and one point below the January report. The expected sales component rose five points to 64, the highest in 2015, and the index measuring buyer traffic rose four points to 41. 
Regionally, the outcome is more mixed, with the Northeast holding steady at 42 for the three-month moving average, the South rising one point to 56, the Midwest falling three points to 54 (but the only region that saw an increase from February to March) and the West dropping three points to 58.
Builders continue to be concerned about lot availability and, to a lesser extent, labor availability. The rising cost of these scarce resources along with rising cost of materials continues to squeeze builders' profits.
Number of Unfilled Construction Jobs Increased by 29,000 in February 
Builders report consumers remain convinced that they have bargaining power on price and some sales fail because their offers or price maximums are below the cost of construction. Even with rising existing home values, construction costs including rising land and labor costs are making it more difficult to meet buyers' expectations and compete with the alternative.
Construction Materials Prices See Largest Monthly Increase in More Than Two Years