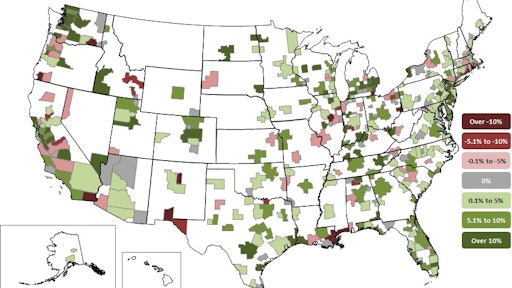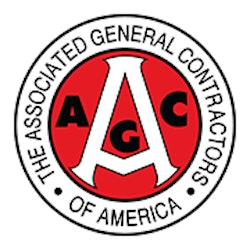 Construction employment expanded in 232 metro areas, declined in 66 and was stagnant in 60 between April 2014 and April 2015, according to a new analysis of federal employment data released today by the Associated General Contractors of America. Association officials said even as contractors in many parts of the country continue to expand their payroll, many firms remain concerned about the potential impacts of federal transportation funding shortfalls.
"Demand, particularly from private sector clients, has rebounded enough that many firms have been steadily expanding their headcount during the past 12 months," said Ken Simonson, the association's chief economist. "But construction employment is still below prior peak levels in most areas, as firms worry about the fate of federal transportation funding."
Seattle-Bellevue-Everett, Wash. added the largest number of construction jobs in the past year (12,600 jobs, 17 percent), followed by:
Denver-Aurora-Lakewood, Colo. (10,800 jobs, 12 percent)
Anaheim-Santa Ana-Irvine, Calif. (7,800 jobs, 10 percent)
Los Angeles-Long Beach-Glendale, Calif. (7,800 jobs, 7 percent)
The largest percentage gains occurred in:
Wenatchee, Wash. (32 percent, 600 jobs)
Atlantic City-Hammonton, N.J. (24 percent, 1,100 jobs)
Visalia-Porterville, Calif. (21 percent, 900 jobs)
Dothan, Ala. (20 percent, 500 jobs)
Lake Charles, La. (20 percent, 2,700 jobs)
The largest job losses from April 2014 to April 2015 were in New Orleans-Metairie, La. (-3,300 jobs, -10 percent), followed by:
Gulfport-Biloxi-Pascagoula, Miss. (-1,800 jobs, -18 percent)
Portland-Vancouver-Hillsboro, Ore.-Wash. (-1,400 jobs, -3 percent)
El Paso, Texas (-1,100 jobs, -8 percent)
Orange-Rockland-Westchester, N.Y. (-1,100 jobs, -3 percent)
The largest percentage decline for the past year was in Weirton-Steubenville, W.Va.-Ohio (-29 percent, -600 jobs) followed by:
Santa Fe, N.M. (-19 percent, -500 jobs)
Gulfport-Biloxi-Pascagoula, Miss. and El Centro, Calif. (-17 percent, -500 jobs)
Association officials urged Congress and the Obama administration to act quickly to identify new sources of revenue to pay for needed road, bridge and transit system improvements before the federal Highway Trust Fund approaches a zero balance at the end of July.  And they said a series of regulatory measures the administration is likely to finalize by January 2017 have many firms worried about the cost of complying with federal red tape.
"It seems a lot easier to issue multi-billion dollar regulations than it is to fix our aging roads and bridges these days," said Stephen E. Sandherr, the association's chief executive officer. "If Washington can find time to protect the earth from dirt with stormwater rules, it should be able to protect drivers from falling bridges."