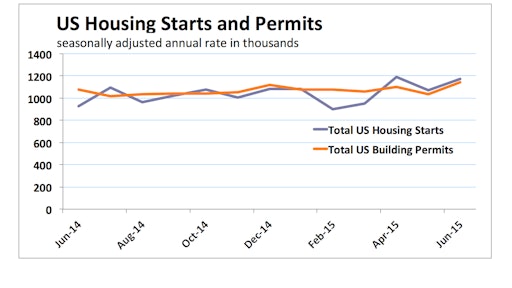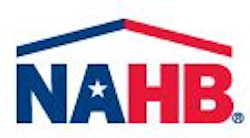 Led by a steep jump in multifamily production, nationwide housing starts rose 9.8% to a seasonally adjusted annual rate of 1.174 million units in June, according to newly released data from the U.S. Department of Housing and Urban Development and the Commerce Department.
Multifamily production was up 29.4% to a seasonally adjusted annual rate of 489,000 units while single-family starts edged down 0.9 percent to 685,000 units. Single-family starts were up 14.7% over the June 2014 pace and, as measured on a three-month moving average, hit a post-recession high in June.
"The multifamily gains this month are encouraging and show that the millennial generation continues to be drawn to the rental market," said National Association of Home Builders (NAHB) Chairman Tom Woods, a home builder from Blue Springs, Mo. 
"While builders are reporting overall confidence in the housing market, they continue to note difficulties accessing land and labor," said NAHB Chief Economist David Crowe. "These headwinds appear to be affecting production gains in the single-family sector."  
Regionally in June, combined single- and multifamily starts rose by 35.5% in the Northeast and 13.5% in the South. The Midwest and West posted respective losses of 0.7% and 6%.
Multifamily permits rose 15.3% to a rate of 656,000.
Single-family permits were up 0.9% for June, reaching a 687,000 annual pace. Permits were up 6% year-over-year. Regionally, single-family starts were up 6.8% for the month in the South, but down 27.3% in the Northeast, 7.1% in the West, and 4% in the Midwest.
All four regions posted permit gains in June. The Northeast, Midwest, South and West posted respective permit gains of 2.8%, 2.9%, 10.4% and 9.5%. 
Estimates of the number of housing units currently under construction highlight the degree to which multifamily starts have grown over the last year or so. As of June, on a seasonally adjusted basis, there were 500,000 multifamily units (in building with five or more units) currently under construction, a 20.5% gain year over year. This contrasts with just 372,000 single-family homes currently under construction, 8.5% higher than June 2014.
Going forward, NAHB expects single-family construction starts to continue to record positive yet modest gains with growing homebuyer demand. While the growth will be constrained by certain supply-side headwinds, most notably lack of building lots and access to labor in some markets, builders continue to express rising confidence, as reported in the NAHB/Wells Fargo Housing Market Index. We further expect multifamily growth to cool given the rising volume of units in the production pipeline.