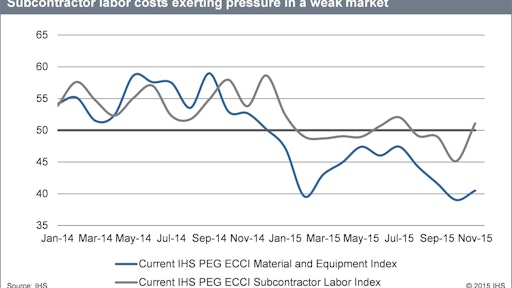 Current construction costs rose in November, according to IHS Inc. (NYSE: IHS) and the Procurement Executives Group (PEG). The headline current IHS PEG Engineering and Construction Cost Index (ECCI) registered 43.7 this month, up from 40.9 in October. The headline index remains well below the neutral mark, indicating that costs are still falling, just not as broadly as in October.  The index has not indicated rising costs for 11 months.
The current materials/equipment index increased to 40.5, from 39.0 in October. Despite this slight uptick, the pricing environment remained weak -- this month's current materials/equipment index was the second lowest reading in the last four years. All underlying material and equipment components showed falling prices except ready-mix concrete. Carbon steel pipe, alloy steel pipe and exchangers registered a lower index figure compared to last month. Carbon steel pipe showed a particular weakness, registering its lowest reading since the beginning of the survey in 2011. 
"Steel buyers are in fear of price hikes in early 2016 based upon anti-dumping penalties on imports. We believe these fears are overdone. While there will be some boost, we see almost as much downward pressure from the collapse in iron ore and scrap prices," said John Anton, principal economist at IHS Pricing and Purchasing.
The current subcontractor labor index increased to 51.1 in November, signifying that labor costs are rising once again. The sub index had recorded its lowest level ever in October. In the United States, majority of the subcontractor labor costs hit the neutral mark, with the exception of US South, where prices increased significantly with an index reading of 57.1. In both Eastern and Western Canada, subcontractor labor costs increased compared to the previous month and reached the neutral mark. In November, labor prices exerted pressure in otherwise weak market conditions.
"US construction markets remain tight which is supporting subcontractor labor costs. The unemployment rate for the construction industry hit a post-recession low of 5.7% in the third quarter of 2015, compared to 7.4% one year earlier. Tight supply and improving demand from downstream energy projects will keep pressure on subcontractor labor," said Emily Crowley, senior economist at IHS Pricing and Purchasing.
The six month headline expectations index rose to 52.6 in November, reverting back to stronger pricing outlook. The materials/equipment index increased to 50.6, from 45.0 in October. Half of the materials and equipment categories came in above the neutral mark, with ready-mix concrete registering the highest price expectations. For future subcontractor labor costs, expectations moved above the neutral mark to 57.3 in November, from 48.8 in October. Subcontractor labor cost expectations only fell in Western Canada and rose for majority of the US and Eastern Canada, with US South posting the highest price expectations.
To learn more about the new IHS PEG Engineering and Construction Cost Index or to obtain the latest published insight, please click here.