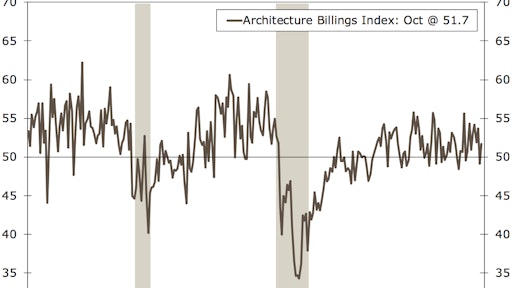 Wells Fargo Securities
After a stand-alone month of contracting demand for design services, there was a modest uptick in the Architecture Billings Index (ABI) for October. As a leading economic indicator of construction activity, the ABI reflects the approximate nine to 12 month lead time between architecture billings and construction spending.  The American Institute of Architects (AIA) reported the October ABI score was 51.7, up from a score of 49.1 in the previous month. This score reflects an increase in design services provided by U.S. architecture firms (any score above 50 indicates an increase in billings). The new projects inquiry index was 60.2, up from a reading of 59.0 the previous month, while the new design contracts index eased slightly from 52.9 to 52.8.
"As we enter the fourth quarter, there is enough design activity occurring that construction conditions should remain healthy moving through 2018," said AIA Chief Economist, Kermit Baker, Hon. AIA, PhD. "Extended strength in inquiries and new design contracts, along with balanced growth across the major building sectors signals further gains throughout the construction industry." 
Despite the slight overall increase, regionally the West was the only region to record an increase from 48.8 in September to 49.8 in October. The Northeast decreased to 54.0 from a 56.9 reading in September. The South was at 50.8 in October after a 54.0 reading last month. The Midwest was down to 49.0 in October after a 50.4 reading in September.

All four sectors were down in October compared to September. However, all sectors still remained above the 50 level. In October, the commercial/industrial sector was at 51.2, down from 54.0 the previous month. Mixed practice came in at 50.7, down from 52.2 in September. Multifamily residential and institutional saw the same readings, down slightly to 50.7 from 51.0 last month.