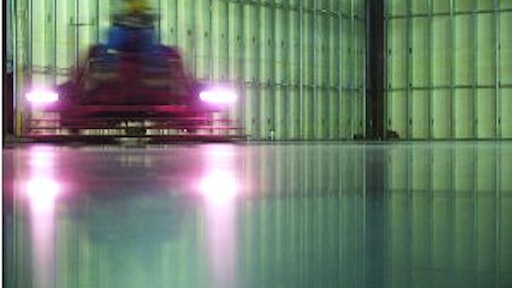 When Birdwell & Associates changed its company motto to "World's Finest Floors" two years ago, the message was more about its quality goal than arrogance.
"I've heard people say, 'World's finest floors, that's saying a lot about yourself,'" says Bryan Birdwell, one of the owners of Lakeland, Fla., construction company. "Yes it is, but we are striving to be that; it's not cocky or arrogant. We have made our share of mistakes. But rather than continuing to repeat them, we have learned from those mistakes and feel what we have implemented into our processes are what sets our finished product apart."
The company keeps racking up evidence that it can deliver on its motto. It recently won its 17th Golden Trowel Award in five years for an ALDI grocery store project where Birdwell & Associates achieved an overall FF 65.2 and an FL 41.8 on a 10,125-square-foot floor. The company also recently completed a hand-placed, 3,000-square-foot structural formed and shored slab-on-deck for the University of Alabama's Science and Engineering department. Crews on that job achieved an overall FF 122.93 and FL 50.21, far exceeding the specified FF 50 and FL 30 requirements (see sidebar).
A concrete focus
Bryan's father, Mitch Birdwell, started Birdwell Builders in 1983 as a general contracting firm focusing on residential and light commercial construction. Mitch had a background in concrete, a trade that helped him earn his living for several years before starting his own company. This background allowed Mitch to lead his general contracting crews to self-perform its concrete work.
Mitch also instilled a passion for concrete in his son. Bryan grew up in his father's business and spent his early years around concrete. He poured sidewalks and slabs with his dad for a variety of volunteer community and church projects, and he read concrete industry magazines while other kids his age read comic books and sports magazines. When Bryan finished school in the early-1990s, it felt like a natural transition for him to apply his acquired concrete knowledge and education and enter the family business full time.
Bryan's transition into his father's company coincided closely with Mitch's decision in the mid-1990s to shift his company's focus from general contracting to specialty concrete. By 2000, the company had well-established success in this realm, taking on a growing number of industrial projects like those at nuclear power plants, coal burning power plants, tilt-up work and superflat floors.
The company grew to about 75 field employees and 15 office employees with multiple estimators and project managers. It experienced growth and prosperity throughout most of the 2000s, but by the end of that decade came to face the same economic realities most contractors across the country experienced.
Bryan says the biggest challenge the company has faced in recent years is an estimated 80 percent of its past clientele isn't building right now. "So much of our work is dead or being done for prices that aren't sustainable — big box stores, distribution centers, industrial paving. What had worked for us in the last 10 years has evaporated," he explains.
Adjusting to today's economy
Today Birdwell & Associates is a much smaller firm at about 20 employees, but Birdwell says that is not a bad thing. "When we were bigger our quality was there but it was a harder struggle to make sure each employee shared our vision and values as owners," he says. "Now we are back to our roots — a small family business where we can manage projects directly and still remain profitable."
Re-sizing the business so it could remain strong in today's economy also prompted the company to adopt a more efficient approach to bidding jobs. "We went from a company with an engineering and estimating staff and bidding everything that moved to being more selective and focusing on the projects that fit our company," Birdwell explains.
This focused approach to targeting projects has made it easier for Birdwell & Associates to market its quality and values with new clients. Birdwell says the company educates its clients on its preferred construction methods and how those methods result in a quality finished project. "A lot of clients assume, no matter what you do during the construction process, there is always a final step that will make it better. We have had clients think they didn't need quality processes because they thought they could just polish a floor at the end of a project and make it look pretty. But what they didn't understand is if a slab isn't durable, or the mix design isn't chosen correctly or the correct processes are not followed through the design and construction phase, the floor can fail and fall apart," Bryan says.
Part of the company's approach in marketing quality construction is helping its customers see the value in a job well done. The Birdwell & Associates team will take a project proposal, explain the benefits of the proposed construction methods and also suggest to its client ways it can save money and have a better end product. "We are not a design/build firm, but we act like one," Bryan explains. "We'll come in and look at a project and offer value and ideas on how we can improve the end product. Some of our suggestions have led to design changes that saved the owner hundreds of thousands of dollars. We've also had numerous jobs that ended up moving to an exposed concrete finish because of the quality of the floor we can provide."
This approach also rings true on the concrete paving projects the company takes on. Birdwell & Associates explains to clients the importance of a geotechnical report to determine what the existing soils will allow. In addition, they highlight proper subgrade compaction, load transfer considerations and how pervious concrete might play into the design. The company also presents a long-term cost evaluation in regard to durability and reduced maintenance costs over the life of the pavement. Since asphalt and concrete are on a pretty level playing field when it comes to price, Bryan says the final decision on whether an owner will choose a concrete parking lot over asphalt often comes down to aesthetics.
"A business owner sees the benefits in a more appealing pavement for people entering his store. He knows customers and visitors won't track petroleum into his building and he will have a clean, white parking lot for safety and lighting purposes," Bryan explains.
When it comes to promoting these systems to municipalities, the company works with city officials, architects and engineers to find out what their needs are. They try to get involved with a project early in order to provide construction education. "We're not out there just to sell the product. I'll be honest and let a client know if the project would be better suited to asphalt," Bryan says. "We've done millions of square feet of parking lot paving that is still in great condition. As long as oil prices keep going up, more people will use concrete. We make sure we design and install our projects in ways that will help the industry long term."
Maintaining quality
In a difficult market, success comes for companies that can differentiate and offer a service better than its competition. For Birdwell & Associate, that differentiating characteristic is the company's commitment to educating its employees on construction practices.
Many of its workers are certified Flatwork Technicians and Finishers as well as Commercial/Industrial Flatwork Finishers through the American Concrete Institute (ACI), and some are certified through the National Ready Mixed Concrete Association (NRMCA) for pervious concrete placement. Bryan personally conducts in-house training with his staff, sharing with them what he calls his "hands-on, common sense approach to concrete." He teaches employees the fundamentals of concrete, taking a craftsman-style approach to training step-by-step so they understand the characteristics of concrete.
"We live in a society that has become so fast paced; we are encouraged to use shortcuts and achieve quick results that appear satisfactory. People think 'equipment will fix this' or 'polishing will fix that'," he says. "We are training our employees to understand the characteristics of concrete — from subgrade to finishing — so they're not just employees who go out on the job and jump on a machine or grab a trowel or shovel. They understand the whole concept of the job and how their performance affects the entire process."
The commitment to training works. "We are giving our employees core values so they are not just working for a paycheck. They finish at the end of the day and wait for slab test results, double-check formwork and grade, or maintain equipment because they know everything matters to the end product," Bryan says.
Pushing the industry
Bryan's desire to share his commitment to quality in concrete construction reaches beyond his own company and employees. Birdwell & Associates often tests equipment and offers manufacturers feedback on how to improve their offerings for increased quality and productivity. Bryan is an active member of ACI, serving on six committees, and he recently started teaching classes on constructing specialty commercial and industrial concrete floors for Wacker Neuson's Technical Academy.
"The class teaches fundamentals — the A, B, Cs of concrete so to speak. It is based on ACI-recommended practices and what I have learned through my years of on-the-job experience and the experience of others," Bryan says. "I want to continue to strive for and set a standard that pushes others, and I want to see other companies install slabs that push us to do better as well." Bryan says the key to achieving quality is simply possessing a desire and willingness to do things the right way. He wants to share that message with other contractors in the industry. "There were so many times we were turned down by banks and investors and struggled through other aspects of business. But we enjoy concrete work so much it keeps us going," he says. "That is why we are here today in a terrible economy still striving to offer what we think is 'the world's finest' in quality concrete construction."