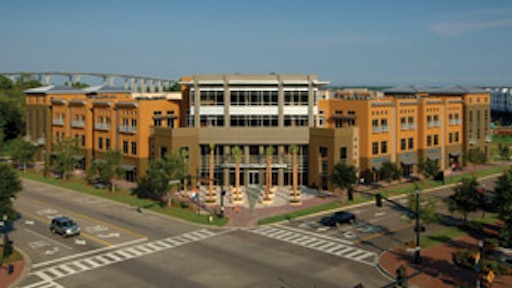 Known for expedient construction time and long-term durability, site cast tilt-up construction structures offer a variety of architectural finishes and lower maintenance, both of which are important attributes to any building owner. With exceptional performance as its goal, it's no wonder why tilt-up construction has an annual growth rate of 20 percent and is used on nearly 650 million sq. ft. of construction every year.
Previously know for its frequent use for one-story buildings, advancements in design and construction have enabled tilt-up concrete projects to reach new heights. Four- and five-story and even higher tilt-up structures are seen with increasing frequency and have many designers considering this highly desirable building method for a broader range of applications.
Owners and architects choose tilt-up for construction projects for many reasons, including savings in cost and time, efficient construction, as well as meeting safety concerns and aesthetics. Providing architects with almost unlimited freedom to arrange and assemble panels, a variety of finishes are also available to ensure that the project meets the owner and architect's visions. Innovative professionals are constantly advancing tilt-up techniques, including researching how to make the system perform even better and exploring new finish techniques. With these advantages and the ever growing benefits, tilt-up creates a finished product that is known for excellence and permanence.
Multistory office construction is a staple in real estate because of the ever decreasing availability of land and ever increasing land value, leading more contractors to pursue these projects in recent years. Schedule and aesthetics are two of the greatest concerns owners have for any office project, so selecting a construction method that meets these challenges is critical for success. As more than just a building shell, the tilt-up system assists contractors in creating the facility both owners and architects desire with speed and cost-effectiveness.
The key to success for any multistory tilt-up project is proper planning. For many multistory tilt-up projects, space for panel forming can be challenging because of the combination of panel heights and quantities relative to the size of the footprint and the complexity of the ground floor systems. However, proper planning will ensure the most efficient layout and will allow contractors to take into account bracing and heavy lifting considerations. Decisions must be considered whether the panels will be designed full height or if the building height will be broken into individual story-height panels. Also popular are designs using combinations of two- and three-story panel heights to achieve the full building height with greater speed and economy.
The Tilt-Up Concrete Association's (TCA) Achievement Awards program demonstrates the rapidly increasing use of tilt-up for multistory facilities. In 2007 alone, four multistory projects were selected from the submittals that demonstrate the advantages tilt-up provides for these unique projects. These projects display the variety in approaches to multistory configuration as well as several ways to embrace the aesthetic variation possible with tilt-up.
Overcoming space constraints
Tilt-up construction was the best choice for Seven Farms Square, a 94,000-sq.-ft. housing project in Charleston, S.C. Located in an area with seismic and storm requirements, this project needed to be designed to handle the elements. Tilt-up was selected for this project because of its ability to address those concerns as well as meet cost and schedule requirements. However, as a four-story project it also stretched the use of tilt-up.
Minimal space on the tight site for casting the many panels needed for this large project made panel layout and bracing very challenging considering the panels weighed approximately 95,000 lbs. The tilt-up contractor for the project, Charter Concrete Services, Inc. of Charlotte, N.C., overcame these issues by taking extra caution in lifting the panels and placing smaller panels on top of the third floor slab on deck. This project introduced tilt-up and its many advantages to the area, architects and construction managers as well as proved its viability for a four-story multi-use project.
Saving money and enhancing visual appeal
Seeing a total savings in construction costs of $1 million, the owner of 2310 Crossroads, a 70,000 sq.-ft. office building in Madison, Wis., was enthusiastic to begin construction using tilt-up. The building was initially designed using conventional building methods, but tilt-up provided significant cost savings. As a result of switching methods, Newcomb Construction Company, Inc. of Madison, Wis., the contractor for the project, faced the challenge of maintaining the appearance of the architect's initial plans.
Additional challenges included working with five-story panels and a small, 14,000-sq.-ft. foundation. Temporary casting beds were utilized at the site for the formation of most of the panels. The 57-ft. panels were the tallest Newcomb had worked with during its 14 years of tilt-up construction experience. Because of the project's complexities, the engineer built a scale model of each panel and its braces. Then the engineer designed a complex weaving pattern that had to be followed exactly in order to adequately support the panels.
The building, built into a hill, has gray foundation walls that are exposed on the lowest level. The walls are disguised by cladding them with specially poured white Portland cement face panels. The visual appearance is enhanced by contrasting red Endicott thin brick and white cement with a slight color additive.
Speedy delivery
Located in Sunrise, Fla., American Classic Voyages is a 370,000-sq.-ft. office building that was completed in a mere six months. The original design called for full-height six-story panels. However, the staging and bracing of such a design was impractical, if not impossible. To overcome this challenge, the tilt-up contractor for the project, Tiltcrete LLC of Medley, Fla., redesigned the project into three panels - a bottom two-story panel, a middle three-story panel, and a one-story panel on the top.
To create the panels, casting beds were used. With a 92-ft. parapet, the panels were welded to the structure and bear on each other to the foundation. Some multistory buildings, because of the size and construction, can have extremely dull appearances. In order to provide visual relief to this tall structure, the building recesses as it elevates. In addition to the recessed features, various paint schemes and treatments such as reveals and punched windows were used on the three panel levels to provide architectural appeal. The clean design is augmented with earth-tone colors to achieve the owner's desired look.
Mastering a technique
With an innate understanding of multistory tilt-up construction experience gained from prior projects, Commercial Superflat of Naples, Fla. used this knowledge to aid the construction of the East Lake Point Office Building, a 54,998-sq.-ft. office building in Palm Harbor, Fla. With this prior knowledge, special attention was given to reducing costs and improving aesthetics.
To reduce costs, the firm reused casting beds and deconstructed them after completion to use for a parking lot base. For improving visual appeal, special attention was paid to the color choices. The three-tone scheme of the building complements the forest green glazing and entry porte cochère canopy. As a main focus on a prominent roadway in the town of Oldsmar, the owner wanted to have maximum visual impact. The inlay reveals on the upper entry panels were painted to match the design of the window glazing, and staggered panels at the main and side entries combine with the darker color of the building to provide striking depth and Class A elements. Using tilt-up allowed the contractor to focus on a strong appearance and draw attention to the owner's facility - a main goal for the project.
Expanding tilt-up multistory construction
As evidenced by these projects, today's tilt-up professionals are able to meet owners' needs quickly and cost-effectively for multistory construction. With proper planning, the possibilities for tilt-up are endless. By understanding all the tilt-up system is capable of achieving, savvy tilt-up professionals can explore different panel, erecting and bracing arrangements to create success for multistory projects.
How a Contractor Can Get into the Tilt-Up Business
When a construction segment displays as much popularity and rapid growth as Tilt-Up has over the past decade, a frequent question asked by those outside the market is "How can I start building with Tilt-Up?" This question is asked many times each month to TCA staff. The growth of contractor membership in the TCA is also a testament to how many are showing interest in joining the industry.
The answer to jumping in to any method of construction is often as easy as pick up some resources, get a good engineer and try a building. Tilt-Up construction is no different. One of the primary advantages to the Tilt-Up process is the construction of all panels horizontally on floor slabs or temporary casting slabs. One might say that if you can handle accurately forming a panel and you can place quality flatwork, you have what it takes to build Tilt-Up panels. Certainly, for basic Tilt-Up this is key and a good start. The differences lie solely in the design of the panels from experienced engineers and material suppliers. They can make or break the success of the project.
However, as with any high-quality construction method that is embraced by designers as a premium architectural system, the relative ease of the Tilt-Up construction process must not be allowed to dismiss the attention that must be given to quality, experience and craftsmanship required by many of the projects that have redefined the face of Tilt-Up. Beginning with Tilt-Up certification through the TCA and the American Concrete Institute (ACI) and followed up with networking with today's Tilt-Up professionals through the TCA, contractors can begin to adopt the methods and mindsets of today's Tilt-Up experts.
Ed Sauter is the Executive Director of the Tilt-Up Concrete Association. TCA was founded in 1986 to improve the quality and acceptance of site-cast tilt-up construction. For more information, visit www.tilt-up.org or call 319-895-6911.