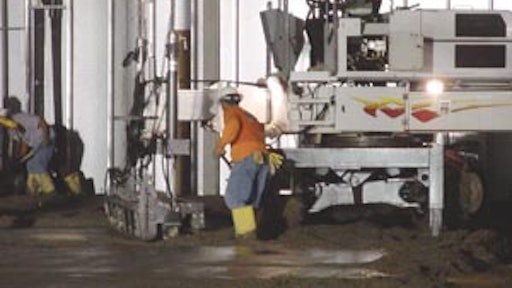 Large concrete pours create several logistic challenges. A successful pour requires that every detail — from the mix design to the floor finish requirements — be accurate. Critical equipment must be available when needed and a strict schedule requires careful planning prior to proceeding with the pour.
Concrete Concepts was recently on a jobsite where Hardrock Concrete Placement Co. Inc., Phoenix, successfully completed a 59,000-sq.-ft. slab for a manufacturing facility on a 40-acre jobsite. This pour required 1,100 cu. yds. of concrete. Twenty-four ready-mix cement trucks began delivering the approximately 125 loads it took to complete the pour at 11:30 p.m., finishing early the next morning.
Projects like this are common for Hardrock. Founded in 1989 by brothers Lee and Larry Lopez, the company has grown to approximately 285 employees, and performs a variety of concrete placement services including structural, tilt-up, flatwork and specialty.
Relationships with clients account for almost all of Hardrock's work. David Buckley, marketing director/project manager, explains that clients return to Hardrock for the consistent quality of the end product. "We are designed to build fast and accurate," he states. "The other thing that we bring is technology and expertise. Our employees know what they can do and they bring that expertise to the table. Hardrock superintendents have been with the company an average of 10+ years.
"You are looking for a finished product that has to be performed the same every time in order to maintain quality," Buckley continues. This is where an emphasis on detailed planning pays dividends. "It is the only way it has ever worked. It goes like clockwork when correct."
Buckley acknowledges there are usually "hiccups" on jobs. "The plant breaks down, there are delays, there are traffic jams and there are breakdowns of equipment on site. You have to plan for that," he states. "You have to plan for extra equipment, make certain that someone has something available within the company (perhaps on another jobsite). You have to make certain that the cement plant can have a pour ready from another plant if needed; and be prepared for the unexpected."
The 3Ps: Plan/Prepare/Proceed
Hardrock has actually developed a system that it uses on most concrete pours. "Our methods are tried and true and we are more in depth than the specs are going to require," says Buckley. "We do include the general contractor because they have to know exactly what we are doing and why we are doing it."
Plan — The process starts with an internal meeting. "An analysis for an upcoming pour starts off with a meeting between Hardrock's superintendent, who is on site working the job, and our finishing foreman," says Buckley. They review the floor finish requirements, equipment required (laser, power screed, buggies, pump), pour date and current pour schedule for the company, as well as the manpower requirements for placement, finishing, rebar chairing/pulling, carpenter watch and sawcut layout.
For larger pours, this meeting occurs 14 days out, then is repeated seven days out. At seven days out, the company also starts reviewing the weather forecast for the date of the pour. "No matter what time of the year, we need to have an idea what is going on," says Buckley.
The mix design is reviewed to ensure the correct mix is ordered and approved. "We hate to have a pour at night and the mix is not approved," says Buckley. The company makes sure the addition of color, fiber and any other additives are correctly reviewed and ordered.
Prepare — Three to five days prior to the pour there is a meeting between the concrete superintendent and the ready-mix service tech. "They walk the site for how they are going to get in because it is at night," says Buckley. The ready-mix tech has to know exactly where the trucks are going and how they are going to mark it. "Usually, we will use night sticks and have a green track on the way in." The staging area and washout areas are also noted.
The layout of the sawcuts are reviewed and confirmed with specifications, as well as the method of curing.
Proceed — On the day of the pour, the concrete superintendent is responsible for a list of items:
• Making certain the testing company is checking slumps of trucks
• Staging of the trucks and avoiding bottlenecks while unloading and washing out
• Making sure all trucks are cycling to return to the plant and back to the project in a timely manner
• Maintaining visual contact with the pour to avoid damage to underground plumbing/electrical by trucks
• Ensuring reinforcing rebar/mesh is being chaired and/or pulled correctly
• Ensuring that vibrating is being done correctly
• Ensuring that carpenters are watching forms to avoid bowing/blow-outs and installing necessary cold joints
Training is critical
As you can imagine, the success of these large pours hinges on the training of employees. Safety and best practices training have proven successful for Hardrock Placement Co. The company places a very strong emphasis on safety, with a formal site-specific safety program, provided by a safety-certified professional. The goal of this program is to ensure that any jobsite hazards are identified and eliminated prior to worker exposure.
All jobsite superintendents and field foremen are educated and trained in best practices, as well as OSHA safety standards. "We have certified safety training programs throughout the year," says Buckley. "Each month, there is a mandatory safety program that is sent out to the superintendents and foremen. The schedule sets out what days in Phoenix and what days in Tucson safety training meetings will be held. The same also occurs for our best practices. We have programs to achieve everything from estimating to how to work elevations."
How has this investment in training worked? Hardrock actually lists its E-MOD and recordable injuries on its web site (www.hrconcrete.com). "That is a highly requested item that contractors want to know," says Buckley. The company's E-MOD has experienced a significant decrease over the last five-plus years since the safety program has been in place. For 2003, it was at 0.72.
For Hardrock, the formula for successful concrete pours have proven to be a structured planning process coupled with best practices and safety training.
Curt Bennink is the Technical Field Editor for Equipment Today, a sister publication of Concrete Concepts.