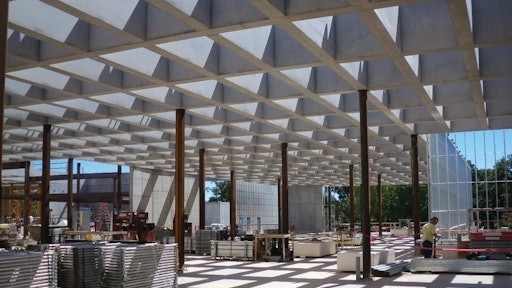 The dust and debris have been swept away on one of St. Louis' signature construction projects — the $130.5 million, 200,000-square-foot expansion of the Saint Louis Art Museum in Forest Park. The official turnover of the site to the museum in July marked the completion of major construction, begun in January 2010, by the Tarlton/Pepper/KAI joint venture team. The turnover also represented the team's hard-won success in artfully solving the challenges posed by the architect's dramatic vision, which included the installation of architectural concrete in unusual ways, along with the ongoing need to avoid creating vibrations that might disturb the museum's collection. The process involved testing on hundreds of mock-ups, including a full-scale gallery model constructed at Tarlton Corp.'s St. Louis headquarters.
Tarlton Corp., along with St. Louis-based KAI Design & Build and Chicago-based Pepper Construction Group, were joint venture general contractors on the project, the most significant expansion in the museum's history. The multi-component project's major focus was constructing the museum's new East Building, designed by Sir David Chipperfield, an award-winning London-based architect. The East Building, now being readied to open to the public in June 2013, will offer visitors 80,000 square feet of new gallery space and expanded public amenities; a three-level, 300-space, below-grade parking garage that doubles current capacity; and a new 140-seat restaurant overlooking Art Hill. Renovation work on the museum's Main Building and South Building also has been under way as part of the overall expansion effort. The renovation work when fully completed will add 13,000 square feet for enhanced permanent collection galleries as well as education, classroom and public space.
Concrete abounds — inside and out, bottom to top
Concrete was used in myriad ways on the project. One of the most unusual and challenging was the design, fabrication and installation of the East Building's 40,000-square-foot, coffered ceiling — believed to be the first of its kind in the world. The beautiful ceiling, which looks as if it's made of flawless, smooth drywall, actually was formed with more than 1,600 cubic yards of concrete poured in place to form a 48-inch-tall framework with 698 rectangular openings that let in light from above.
Concrete also was used extensively on the East Building's exterior, which has a shiny, dark façade created by incorporating 1.5-inch Missouri river aggregate into specially dyed concrete. The 23 panels, each weighing between 44,000 pounds and 84,000 pounds, were poured on site in tents during the winter months, then ground and polished to remove the top layer and to maximize aggregate exposure before being lifted by crane and tilted into place over a period of 15 days.
"Sir David Chipperfield's design is in itself a work of art," said Tracy Hart, Tarlton president. To successfully execute that design, with its unusual and extensive concrete applications, Tarlton embarked on a painstaking process over several years.
"In addition to the hundreds of mock-ups Tarlton constructed for the museum and design team, we worked on different concrete mix designs, various formwork types and a variety of reinforcing and placement techniques. We also consulted with specialists throughout the industry," said Matthew Pfund, Tarlton project director. "We used the full-scale mock-up at Tarlton headquarters to explore the ceiling design in several ways. The mock-up, which included to-scale coffering, gave us the means to verify light levels and test the equipment that would be integrated into the actual coffers, such as light spreaders, shades and sprinkler heads."
To assist with the extensive concrete work, Tarlton contracted with McCarthy Building Cos., forming a successful collaboration between two of the region's most qualified concrete contractors. "The museum project definitely showcases the versatility of concrete," noted Hart. "The team effort involved also demonstrates how well many separate entities can work together to achieve something special for St. Louis. Ultimately, more than 1,500 skilled builders and tradespeople contributed to the successful outcome of this project. It's a tribute to their craftsmanship."
Protecting people and art
The logistics of maintaining a safe and productive construction site at a cultural institution open to the public was a daunting task. "A big obstacle was working alongside an operating art museum. From the project's onset, we had to be extremely sensitive to the environment," Pfund said. "Barricades and partitions were erected to keep the museum clean and visitors safe, and we constructed a temporary road to reduce construction traffic from the front of the museum as well as provide two access points for construction."
Pfund noted that the Tarlton team encountered large volumes of rock during deep foundation excavation, which was completed just a few feet from the 1904 Cass Gilbert-designed Main Building. The rock needed to be removed, crushed on site and reused – generally noisy and vibration-creating processes. "We carefully monitored vibrations in locations throughout the building," said Pfund. To keep vibration within the acceptable range, the team used smaller equipment than usual and, when working very close to the existing building, completed work by hand.
The Saint Louis Art Museum Expansion Project is LEED Registered, designed in accordance with Leadership in Energy and Environmental Design standards for environmentally sustainable construction developed by the U.S. Green Building Council. HOK is the architect of record on the project. The Rise Group served as project manager.
The Saint Louis Art Museum is one of the nation's leading comprehensive art museums with collections that include works of art of exceptional quality from virtually every culture and time period. The museum offers a full range of exhibitions and educational programming generated independently and in collaboration with local, national and international partners.
Tarlton Corp. is St. Louis' largest women-owned general contracting and construction management firm, with 2011 revenues of $140 million.